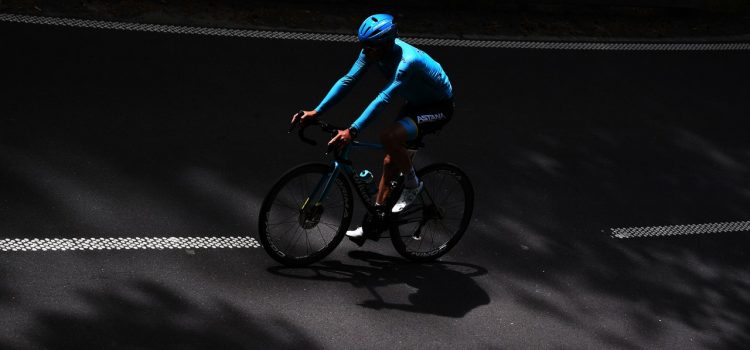 Whether you're buying new tires or riding on rubber you already love, remember: Even a new tire is only as good as the pressure...
Whether you're buying new tires or riding on rubber you already love, remember: Even a new tire is only as good as the pressure of the air in it. It's imperative to play around with your tire pressure depending on how you ride, what terrain you're riding, and how much pressure changes throughout the course of the day due to altitude or temperature fluctuations.
"I like to think about tire pressure in the way I think about cooking," says Calvin Jones. "Julia Child told you to measure the ingredients of a recipe using measuring cups and spoons." Translated to cycling, that means a good pressure gauge is another handy tool. I like Park Tool's Shop Inflator ($135). For a less expensive two-in-one solution, go with Topeak's Joeblow Sport 2Stage pump ($100), which not only pumps air into your tires quickly with less effort, but also has an easy-to-read analogue gauge on top that's accurate enough for cyclists who like to judge their tire pressure by feel.
"Feeling your tire pressure is really important," says Jones. "A good cook is not putting in a teaspoon of salt, they are going to pour it in their hand and feel it out." To get better at more accurately feeling out tire pressure, Jones recommends keeping a journal.
"People just throw air in there, dial it up, and go ride, but then it's still this big mystery," Jones says. "But if you start recording the pressure you put in and felt good on, say, a really rocky ride, that helps you remember what you need for future situations."
Cyclists who ride in changing altitudes, those who compete in long-distance "ultra" rides, or those who just obsess over tire pressure will also want to invest in SRAM's Tyrewiz ($199) a device that fits on the tire's valve that relays real-time pressure to a mobile app. Over the long haul, this saves wear and tear on both the bike and the rider—riding in the correct pressure range helps avoid flats and blowouts that inevitably come with under- or over-inflated tires.
Stay Fit
Too many holiday treats—cookies, beers, cocktails, whatever your vice—will always slow you down on the bike. We're all for the occasional indulgence, but a way to ensure you don't go overboard is to do a weekly weigh-in. Experts recommend that weighing in once per week (rather than once per day), allows you to focus on healthy behaviors rather than become hyper-focused on small weight fluctuations that may mean nothing. Garmin's new Index S2 Smart Scale ($150) tracks weight, BMI, body fat percentage, skeletal muscle mass, and water weight. Weigh in for a month and it will show your fluctuations in a chart format so you can easily see how much you are progressing or regressing.
Those obsessed with measurements like body fat, however, need to understand that the scale estimates the metrics other than weight using impedance, which means that it runs a small electrical current up through your feet measuring the body's resistance to the current. The scale then crunches age, height, weight, gender, and activity level into a proprietary algorithm that produces the body fat, bone density, and skeletal muscle mass measurements. These may be close to your real measurements, but are likely not perfect.
In winter months, it might be mandatory to ride inside or to cross train, which is where Wahoo's new Elemnt Rival ($380) multisport GPS watch comes in handy. Unlike a handle-bar mounted GPS navigation system that most cyclists prefer, you can take this watch anywhere—to the gym, the yoga studio, on a run, or even into the pool.
Designed for triathletes, the watch's "Touchless Transition" allows users to push just one button at the beginning of a race or workout, and it automatically knows when the transition to a new sport occurs. Its "multi-sport handover" feature allows a handlebar-mounted GPS like the Wahoo Elemnt Roam ($380) to display cumulative workout metrics from all disciplines gathered from the watch. Another handy feature is its built-in, wrist-based optical heart-rate monitor. For increased accuracy, it's also compatible with Wahoo's Ticker X ($80) heart rate sensor chest strap that tracks heart rate, calories burned, running analytics, and indoor cycling cadence.
The watch already tracks multitudes of sports including open-water swimming, running, triathlon, indoor training, strength training, and yoga. But, say you want to add a sport like Nordic skiing. It's easy to add and customize the metrics for any sport via the accompanying app. And any day now, Wahoo says it will offer a firmware update that will track your sleep. So rest easy.
---
More Great WIRED Stories