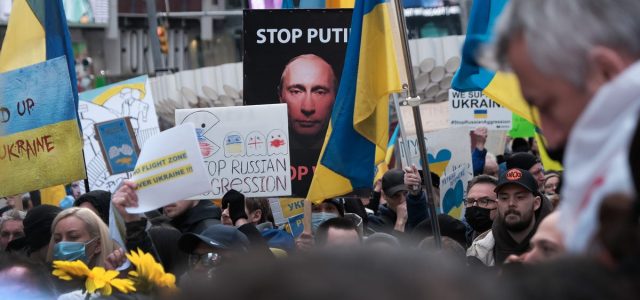 Meta's decision reflects intense anti-Russia reaction over the war in Urkaine, including this March 5 protest in New York City's Times Square. Spencer Platt/Getty...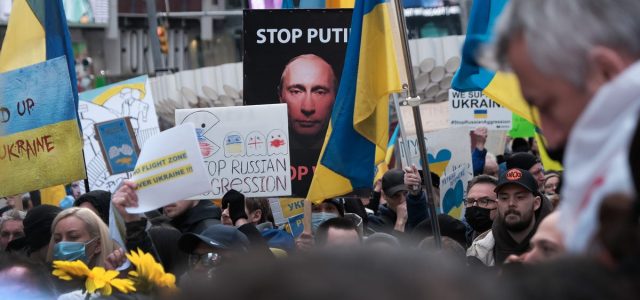 Facebook parent company Meta said Thursday that it will allow some violent speech against Russian invaders that would normally violate its rules because it views these remarks as political speech. 
"As a result of the Russian invasion of Ukraine we have temporarily made allowances for forms of political expression that would normally violate our rules like violent speech such as 'death to the Russian invaders.' We still won't allow credible calls for violence against Russian civilians," Meta spokesman Andy Stone said in a tweet.
The rare exemption to the company's rules against hate speech, which bars people from posting content targeting a group of people, including violent content, shows how the world's largest social network is moderating content about Russia's invasion of Ukraine. The move, though, is already escalating tensions between Meta and the Russian government. 
Russia's Investigative Committee said in a statement on Friday it has opened a criminal case against Meta for allegedly violating the criminal code of the Russian Federation that bars public calls for extremist activities and assistance in terrorist activities. 
"As part of the criminal case, the necessary investigative measures are being carried out to give a legal evaluation to actions of Andy Stone and other employees of the American corporation," the committee, which reports to Russia President Vladimir Putin, said in the statement. 
Facebook has been facing a greater number of calls to crack down more heavily on propaganda and misinformation. Last week, Russia said it was blocking the social network after Facebook started to make content from Russian state-controlled media tougher to find on its platform and tapped third party fact-checkers to debunk false claims. On Friday, Russia's telecommunications regulator Roskomnadzor said in a statement the Prosecutor General's Office of Russia demanded that the agency also restrict access to Meta-owned photo-and-video service Instagram. Roskomnadzor said the restrictions will take effect on March 14 to allow users to transfer their photos and videos to other social networks and notify their followers and contacts. 
The Russian Embassy in the US also responded to Thursday's decision, saying that Meta's actions were equivalent to a declaration of information war against Russia, according to a report by Russian state-operated news agency Novosti. In a post on Twitter, the embassy called on US authorities to "stop the extremist activities of Meta."
For years, Facebook has also grappled with criticism that its rules are enforced unevenly. The company created a semi-independent oversight board to weigh in on its toughest content moderation decisions. 
Reuters, which first reported the policy change, said that in certain countries, including Russia, Ukraine and Poland, the social media giant is also allowing some posts that call for death to Russian President Vladimir Putin or of Belarusian President Alexander Lukashenko. The changes also apply to Meta's Instagram social network. 
Citing internal emails, Reuters said that calls for death won't be allowed if they contain other targets or include "two indicators of credibility" such as the location or method of death. The posts must also be about the invasion of Ukraine. Calls for violence against Russian soldiers will also be allowed in Armenia, Azerbaijan, Estonia, Georgia, Hungary, Latvia, Lithuania, Poland, Romania, Russia, Slovakia and Ukraine, Reuters reported.
Also Thursday, Facebook and Twitter removed posts from Russia's embassy in the UK over false claims surrounding the bombing of a maternity hospital in the Ukraine city of Mariupol on Wednesday. In one tweet, Russia's embassy claimed that a pregnant woman seen in a photo of injuries at a the hospital was actually a Ukraine "beauty blogger" and suggested that the photo was staged propaganda, CNBC reported.
At least one child and two adults were killed at the hospital and another 17 were injured, Ukraine officials have said.
Meta didn't immediately answer questions about how long it expects the exemption will be in place or the number of posts that may be impacted. 
Meta hasn't released data about how many of Facebook and Instagram users are in Russia. App analytics firm Sensor Tower estimates that since 2014 Instagram has been installed 166 million times from Russia's App Store and Google Play. Facebook in Russia has an estimated 56.2 million installs. Sensor Tower says based on that data, Russia is the 5th largest market for Instagram and the 20th largest market for Facebook.