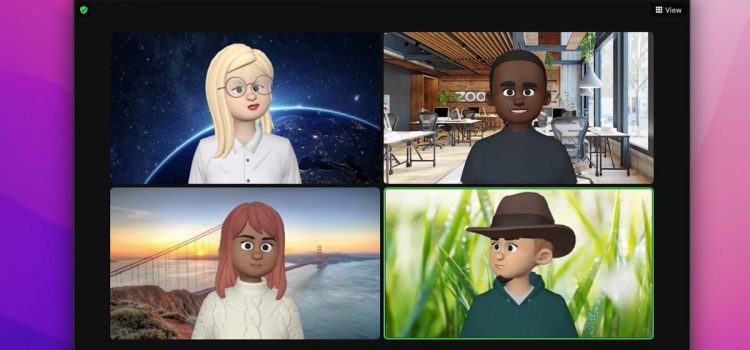 Video-chat service Zoom is ringing in the new year with the attitude, "New year, new cartoon version of you!" The service was announced in a...
Video-chat service Zoom is ringing in the new year with the attitude, "New year, new cartoon version of you!" The service was announced in a Jan. 5 blog post that customizable avatars are one of a handful of new features users will be able to access. The other features include new meeting templates, threading chats in meetings and a dedicated Q&A feature. Zoom One Pro, Business, or Business Plus online plan users also gained premium access to some apps. 
Here's a breakdown of the new Zoom features and what to expect in future meetings. Most of these features are available now, unless noted otherwise. 
Customizable avatars
In March 2022, Zoom released animal avatars that let you transform yourself into an animated bunny, dog or other critter. Zoom's new avatar feature, on the other hand, lets you turn yourself into a cartoon, and you can customize your avatar's appearance to match your own. 
Your cartoon avatar will mirror your movements and facial expressions, too. However, it doesn't do everything you do. If you're eating in your meeting — I'm guilty of this — your avatar won't start munching on a cartoon sandwich.
Avatars are available in beta to all Zoom users, and Zoom said it plans to continue adding customization options.
Threaded in-meeting messages and reactions
In-meeting Zoom chats can be hectic and hard to follow, especially if you're in a company-wide meeting. To help organize in-meeting chats and to make them easier to follow, Zoom is introducing threaded in-meeting messages and reactions. Now, if someone asks in the meeting chat, "What should I get for lunch?" you can recommend your favorite burrito place without your comment getting lost. 
This feature will be available by the end of January. 
Meeting templates
All meetings are different and require different settings. Instead of changing the settings each time you create a meeting, Zoom is letting users create their own meeting templates. Now if you have a recurring meeting, you can create a template and use it each time rather than remembering which settings to allow or disable. 
Zoom also has three premade meeting templates people can use. Here are those templates.
Large Meetings: Good for teamwide meetings. Captions are enabled for all participants and the meeting is automatically recorded.

Seminars: Think business training or university classroom. Controls are tightened so features like participant screen sharing are disabled. 

K-12: Suited for remote learning in grade school and high school. Polls and quizzes are enabled, but other features are limited to cut down on distractions.
Q&A in meetings
If you're delivering a presentation during a Zoom meeting, keeping track of your presentation and the in-meeting chat can be difficult. Some people are having side conversations and some are asking questions. Zoom's new dedicated Q&A feature for meetings makes it easy to keep track of questions — as well as answers — people might have in meetings without clogging up the in-meeting chat.
Access to curated Essential Apps
If you are a Zoom One Pro, Business, or Business Plus user, Zoom is giving you access to premium versions of some apps, called Essential Apps. Some of the apps are productivity focused, like Coda and Sesh, while others are meant to be fun and build teamwork, like Kahoot and Funtivity. 
For more, check out these 25 Zoom tips and tricks and other new features Zoom announced at its Zoomtopia 2022 event.