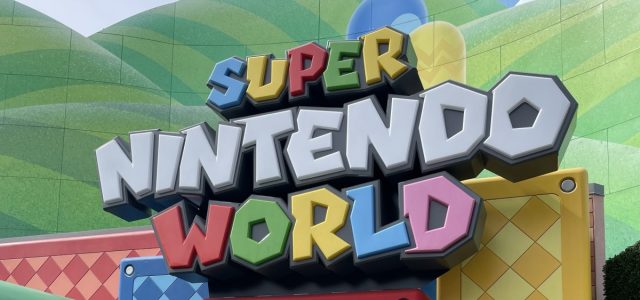 Connect with top gaming leaders in Los Angeles at GamesBeat Summit 2023 this May 22-23. Register here. Super Nintendo World has officially opened at...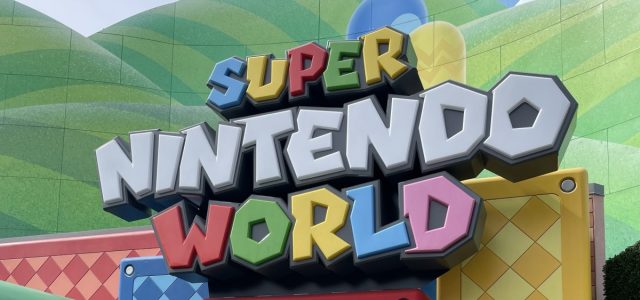 Connect with top gaming leaders in Los Angeles at GamesBeat Summit 2023 this May 22-23. Register here.
---
Super Nintendo World has officially opened at Universal Studios Hollywood. The highly anticipated theme park pioneers a unique concept — rather than focusing on rides, the park is an interactive experience.
Full disclosure, I was lucky to visit the park the day before it opened. Universal and Nintendo provided a Power-Up Band which is essential for the full park experience and food was available for free.
Super Nintendo World's highlights
Adapting game play to real life
Your mission in the park — should you choose to accept it (and pay for the NFC enabled Power-Up Band) — is to explore and discover the secrets scattered through out the land. The bands will track your progress as you collect coins and keys. The Mario Kart ride is the best way to collect coins, but blocks are available throughout to park too.
Event
GamesBeat Summit 2023
Join the GamesBeat community in Los Angeles this May 22-23. You'll hear from the brightest minds within the gaming industry to share their updates on the latest developments.
Visitors collect keys by playing four mini-games in the park. The first time a key is collected, you'll play on easy mode. However, the difficulty increases dramatically on subsequent attempts. These require active participation and timing. Be prepared to move around, and having a friend or two will help.
After you collect three keys, you can enter Bower Jr.'s lair. Visitors are tasked with swatting away Bob-ombs, ducking under Bullet Bills and collecting power ups. This was my favorite part of the park. The quest-like experience captures the feeling of playing a game in real life.
The technology
The Power-Up bands are critical to the Super Nintendo World experience. You should plan on buying one if you intend to go. They enable you to fully experience all the park has to offer. The app will also give you clues on how to collect stamps, coins and find the secrets. I regret not using the app more while at the park. The bands also give information to cast members, particularly those in costume. This helps to personalize meet and greets.
In addition to the Power-Up Bands, Super Nintendo World uses AR to bring Mario's world to life. This is best seen in the Mario Kart ride. Riders are given visors inspired by Mario's hat that connect to the ride's AR screen. Through out the ride, you steer, collect shells and fire away at Mario's iconic cast who are projected via AR. Not only does the ride immerse you in Mario's world, the focus on getting a high score makes it replayable.
The AR technology is also available in some other areas of the park, specifically the binoculars that overlook Bower Jr's Shadow Showdown.
Immersion
Super Nintendo World was meticulously built to capture the world of Mario. According to Jon Corfino, VP at Universal Creative, the project took over seven years to come to fruition.
"The cornerstone of this whole effort has been our relationship with Nintendo and Miyamoto-san and having their partnership because it's all about authenticity," Corfino said. "They're the best at what they do. We worked hand-in-hand with them on everything you see — from the wood grain on the seats to the audio levels in the park."
The attention to detail paid off. The park itself captures the feeling of Mario. The nostalgia is off the charts and will delight fans that can visit.
Missed opportunities
While the Super Nintendo World itself is fantastic, there are some areas that could use improvements.
The instructions for setting up the Power-Up Band and how its used to interact with the environment were not obvious. You can easily miss opportunities — like the Mario Kart ride — to scan your band. I was lucky to get some help, but unprepared visitors might miss out.
Additionally, the bands themselves don't feel as secure as I'd like. They snap on, but they tend to curl up without getting a rubber band at the 1-Up Factory retail store that isn't included in the packaging. This could become a major inconvenience for guests, particularly families.
I was also disappointed that there were not more opportunities to use the band. The queues are decorated beautifully, but I wanted a mini-game to play while in line. Similarly, the Toadstool Café didn't offer any opportunities for using the band. There are windows that show Chef Toad hard at work, but the Power-Up Bands could have helped personalize the experience and make it more immersive.
Overall Impression
Super Nintendo World will delight Nintendo fans, and the experience is suitable for all ages. Crowds could make the park more difficult to navigate (I visited during a closed event, so this wasn't an issue), but overall it should fill up closer to a half-day than a full day experience. The officially announced Orlando version will feature more rides.
As Hollywood and gaming become more enmeshed, Super Nintendo World represents a different way to adapt games. Universal and Nintendo's partnership was critical in successfully capturing the spirit of Mario. The multi-media immersive experience will delight fans and effectively makes you feel like you're playing a game in real life.
If you're a Nintendo fan in Southern California, the park is a must see.
GamesBeat's creed when covering the game industry is "where passion meets business." What does this mean? We want to tell you how the news matters to you — not just as a decision-maker at a game studio, but also as a fan of games. Whether you read our articles, listen to our podcasts, or watch our videos, GamesBeat will help you learn about the industry and enjoy engaging with it. Discover our Briefings.