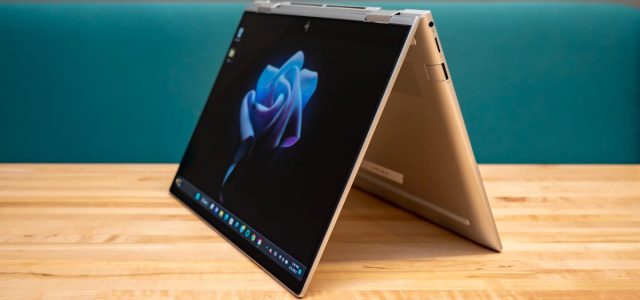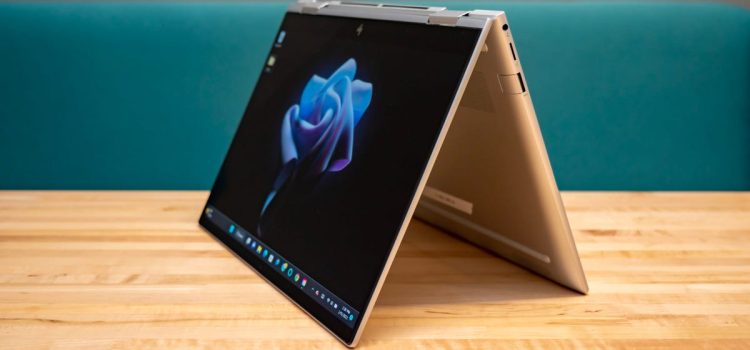 The HP Envy x360 13 is a compact, midrange two-in-one based on a 13.3-inch touch display with a tall 16:10 aspect ratio that makes...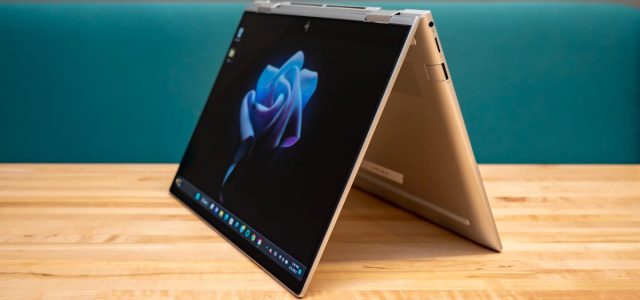 The HP Envy x360 13 is a compact, midrange two-in-one based on a 13.3-inch touch display with a tall 16:10 aspect ratio that makes the screen feel roomier than a 13.3-inch widescreen display. Still, it's less screen than you get with the 14-inch, 16:10 Lenovo Yoga 7i, which remains our favorite two-in-one for most buyers. At $1,050, the HP Envy x360 model we tested costs a bit less than the Yoga 7i we looked at, but we think the Yoga 7i is worth the extra funds.
For starters, the Envy x360 13 isn't any lighter than the 14-inch Yoga 7i, so there's no weight penalty to pay for the added screen real estate. More to the point, the Envy x360 13 we tested supplies only 8GB of RAM. Any laptop or convertible with a price north of $1,000 should serve up 16GB of memory, as the Yoga 7i does. The meager memory allotment holds back the Envy x360 13's performance. Its battery life also failed to impress, and we aren't fans of the silver-on-silver, low-contrast keyboard. Unless you find the Envy x360 13 on sale at a substantial discount, we would steer two-in-one shoppers to the Yoga 7i.
Like
Rigid, metal chassis
HP offers affordable upgrade options
1440p webcam
Don't Like
Only 8GB of RAM hampers performance
Poor contrast between keys and key symbols
Disappointing battery life
Our test model (13-bf0013dx) is available at Best Buy for $1,050. You can also find it for the same price at HP.com. Best Buy and HP are constantly rotating sales, and while our review configuration is not marked down at Best Buy right now, it's $200 off at HP and selling for only $850. The line starts at $900 at HP for a system with the Core i5-1230U processor, and this baseline model is also $200 off and selling for $700. Upgrading to the Core i7-1250U CPU of our test system is a $150 upgrade on the customizable model on HP's site. And for a $220 upgrade, you can get the Core i7-1250U and 16GB of RAM — a much better option than the $150 CPU-only upgrade we received. 
HP also offers two display upgrades, both of which are aggressively priced. We received the baseline display, an IPS LCD touch panel with a 1,920-by-1,080 resolution. For $30 more, you can upgrade the resolution to 2,560-by-1,600. That's a reasonable sum for the added pixels, but the baseline display looked plenty crisp across its 13.3 inches on our test system. However, the $60 display upgrade gets you an OLED panel with a 2,880-by-1,800 resolution. We'd happily spend that amount for the incredible color and contrast that an OLED panel delivers. In the UK, the Envy x360 13 starts at £730 for an AMD Ryzen 5-based config and £750 for a Core i5-based model. In Australia, it's AU$999 for a Ryzen 5 model and AU$1,399 for a Core i5 model. 
With the upgrade to the Core i7-1250U CPU but with the baseline 8GB of RAM, our Envy x360 13 test system trailed competing two-in-ones from Dell and Lenovo that feature similar 12th-gen Intel U-series chips but with 16GB of RAM. As configured, the Envy x360 13 will suffice for basic office tasks but is a poor choice for more intensive creative work that requires more RAM and better graphics. Perhaps the most surprising test result was its lackluster runtime; it lasted only eight hours on our battery drain test. That might be enough to squeeze out an entire workday on a single charge, but other two-in-ones can run for hours longer on a single charge.
HP Envy x360 13-bf0013dx
| | |
| --- | --- |
| Price as reviewed | $1,050 |
| Display size/resolution | 13.3-inch 1,920 x 1,200 touch display |
| CPU | 1.1GHz Intel Core i7-1250U |
| Memory | 8GB LPDDR4x-4266 MHz RAM (onboard) |
| Graphics | 128MB Intel Iris Xe Graphics |
| Storage | 512GB PCIe NVMe M.2 SSD |
| Networking | Wi-Fi 6E (2×2)(19c) and Bluetooth 5.3 combo (Supporting Gigabit data rate) |
| Operating system | Windows 11 Home 22H2 |
Slim and silver
The Envy x360 13 boasts a trim, all-metal chassis that's only 0.63-inch thick and weighs only 3 pounds. It's eminently portable, but the 3-pound weight begins to feel less impressive when considering the slightly larger, 14-inch Yoga 7i also weighs 3 pounds. 
I don't take issue with the Envy x360 13's size or weight, but I do have a problem with the silver keyboard. The keys match the rest of the system — silver lid, silver keyboard deck and silver bottom panel. That's a lot of silver. I don't mind the monochrome design, but the silver keys are hard to read because there's little contrast between the silver keys and dark gray key symbols. The Envy x360 13 would look equally sleek with a traditional black keyboard and be much easier to use. The keys themselves are flat, with shallow travel and snappy feedback. And they offer two-level backlighting, which I had to frequently employ to see which key was which.
For such a small laptop, the touchpad looks and feels roomy. It accurately recorded my mousing gestures, and its click response was just about perfect. It's quiet when clicked with a firm-but-not-too-firm feel.
Before 16:10 laptop displays started replacing widescreen 16:9 panels, I would have said a 13.3-inch laptop is too small for your everyday laptop, even if you needed to carry it to work or class each day. You'd be better off with a 14-inch model for the added screen space at the expense of toting a few more ounces in your laptop bag. The 13.3-inch, 16:10 has me rethinking this advice. It was large enough to work comfortably, including multitasking and juggling multiple windows. The 1,920-by-1,200 resolution is plenty crisp on the 13.3-inch panel and offers plenty of brightness. It's rated for 400 nits of brightness, and I measured it to be even a bit brighter than that at 460 nits.
The 13.3-inch, 16:10 panel also feels natural with the display rotated 360 degrees into tablet mode. Larger 15.6-inch and narrower 16:9 panels can feel a bit unwieldy when used as a tablet. I could hold the Envy x360 in one hand without issue or awkwardness and swipe and tap on the screen with the other. A stylus, however, was not included with our test system. On Best Buy, it states that a stylus is not included, but if you buy from HP, an HP Rechargeable MPP2.0 Tilt Pen is included in the price.
The Envy x360 13 boasts a 1440p webcam that produces an incredibly crisp picture that makes the previous-gen 720p cameras look like grainy, poorly balanced garbage. It's also an IR cam that you can use to sign in simply by placing your face in front of the display. Without a fingerprint reader, the camera is the system's only biometric security feature.
The laptop offers a pair of USB Type-A ports and a pair of USB-C ports with Thunderbolt 4 support. You also get a microSD card slot. Missing are HDMI and Ethernet ports. HP includes a USB-C-to-Ethernet adapter, but it would have been nice if that adapter also had an HDMI connection.
With a trim, aluminum chassis and a bright, fairly roomy 13.3-inch display, the HP Envy x360 13 has the makings of a versatile yet portable two-in-one convertible. In the end, the Lenovo Yoga 7i outclasses it by offering a larger display at the same 3-pound weight, better performance and much longer battery life. With HP's customization options at affordable prices, you don't need to spend all that much more to configure a better Envy x360 13 machine that includes 16GB of RAM and an OLED display. We still would worry about the battery life since you cannot upgrade to a bigger battery.
The review process for laptops, desktops, tablets and other computer-like devices consists of two parts: performance testing under controlled conditions in the CNET Labs and extensive hands-on use by our expert reviewers. This includes evaluating a device's aesthetics, ergonomics and features. A final review verdict is a combination of both objective and subjective judgments. 
The list of benchmarking software we use changes over time as the devices we test evolve. The most important core tests we're currently running on every compatible computer include: Primate Labs Geekbench 5, Cinebench R23, PCMark 10 and 3DMark Fire Strike Ultra. 
A more detailed description of each benchmark and how we use it can be found in our How We Test Computers page. 
System configurations
| | |
| --- | --- |
| HP Envy x360 13-bf0013dx | Microsoft Windows 11 Home; 1.1GHz Intel Core 17-1250U; 8GB DDR4 4,266MHz RAM; 128MB Intel Iris Xe Graphics; 512GB SSD |
| Lenovo IdeaPad Flex 5i | Microsoft Windows 11 Home; 1.3GHz Intel Core i5-1235U; 16GB DDR4 4,266MHz RAM; 128MB Intel Iris Xe Graphics; 512GB SSD |
| Dell Inspiron 14 7420 2-in-1 | Microsoft Windows 11 Home; 1.7GHz Intel Core i7-1255U; 16GB DDR4 3,200MHz RAM; 128MB Intel Iris Xe Graphics; 512GB SSD |
| Lenovo Yoga 7i (Gen 7) | Microsoft Windows 11 Home; 1.7GHz Intel Core i7-1255U; 16GB DDR5 6,400MHz RAM; 128MB Intel Iris Xe Graphics; 512GB SSD |