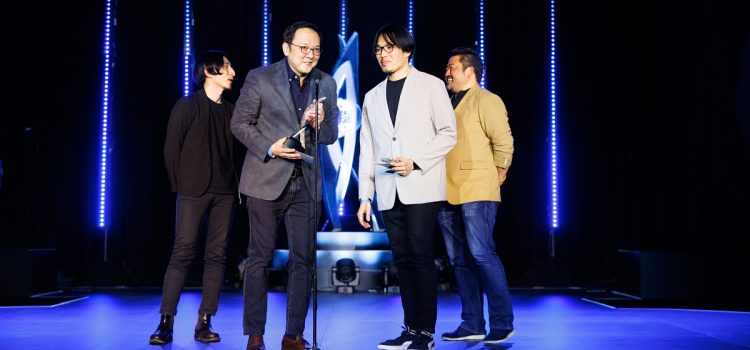 Connect with top gaming leaders in Los Angeles at GamesBeat Summit 2023 this May 22-23. Register here. I enjoyed many of the moments of...
Connect with top gaming leaders in Los Angeles at GamesBeat Summit 2023 this May 22-23. Register here.
---
I enjoyed many of the moments of the Dice Summit 2023 and the Dice Awards this week, from the opening talk by author Neal Stephenson, creator of Snow Crash, to the acceptance speeches at the prestigious equivalent to the Oscars of games.
It was refreshing to see people again, unfettered by a lingering pandemic, milling about in a big reunion of friends and peers. The Dice Summit is often my favorite gathering, aside from our own GamesBeat Summit events, where I see the game industry drink from the well of inspiration.
There were moments that brought tears to my eyes, and I was honored to be able to moderate the Dice Summit's town hall panel. I'll write about that another time, but here are some of the moments that were fun to call out at the event. It was once again nice to be part of the Dice Summit community, as I have never missed one of these events in more than two decades.
Neal Stephenson
Stephenson didn't start with a hard sell for his blockchain-based startup Lamina1. Instead, he spoke in analogies about the challenges for blockchain games and how they need to focus less on business models and technology and more on the creation of great games. But he told the story through the tale of Jack and the Beanstalk.
Event
GamesBeat Summit 2023
Join the GamesBeat community in Los Angeles this May 22-23. You'll hear from the brightest minds within the gaming industry to share their updates on the latest developments.
He focused on this fairy tale because it centers on a transaction for "worthless currency" in the form of magic beans which Jack bought in exchange for a cow. Why would anyone want to invest in cryptocurrency for buying in-game items such as non-fungible tokens (NFTs)?
He told game developers at Dice's opener that developers should be aware of the intrinsic value of items that are being sold for in-game economies for virtual worlds. What are they worth, beyond artificial scarcity? He likened the magic beans to the in-game items he acquires in his favorite game, Valheim. The items he and his friends collect in that game are meaningful only to them, as they are attached to memories. That's like the value we attach to physical goods like old used books. We love the memories, and we're not likely to sell them even for a ton of money, he said.
"Most people play (World of Warcraft) for the joy of it, and for the experiences they have," he said. "They're not particularly eager to liquidate their inventories of virtual goods because the magic swords in those inventories have utility, as well as intangible qualities—the memories associated with pride and achievement."
At some point in the future there may be a good reason to have digital in-game goods be as easily sellable as our real physical stuff is. But "stuff" only has value if people give them value.
"It's not just the currency that sets the value of the goods. It's the goods in the aggregate that set the value of the currency."
And what follows is that if a game isn't compelling on its own, why would anyone care if you could buy and sell the goods inside such a game? He suggested we should focus on intrinsic value.
Focus on the intrinsic value of these experiences, Stephenson said, and you'll be better off than trying to convince the world that a digital gun or hat has real financial value.
Interlude
Before the awards show, I ate some barbeque with Marty O'Donnell, the former Bungie musician who created the music for Halo and Destiny. It was a treat to hear him hum the tune to the Gregorian monk chant from the Halo soundtrack. He noted that, more than 20 years ago, he was one of four singers who hummed the chant, along with three other singers who had just finished a commercial for Mr. Clean.
"We had no idea how big it would be," he said.
Maya Rogers
Maya Rogers-Kiyomura, CEO of the Tetris licensor Blue Planet Software and Tetris, told me that the Tetris film will debut in a premiere at South By Southwest in March. Tetris, directed by Jon S. Baird, is a biopic work of fiction that captures the essence of one of the best business development stories of all time.
It's about how Henk Rogers, Maya's father, tracked down the creator of Tetris, Alexey Pajitnov, back in the 1980s and secured the rights to the block-stacking game for Nintendo. There are some Hollywood embellishments to the story, but it tells the story of what it was like to go inside the communist regime of the Soviet Union and emerge with a contract of all contracts for the game rights. Maya Rogers-Kiyomura said her father and Pajitnov are still great friends and business partners to this day.
The show will eventually be on Apple TV+.
Dice Awards
Ted Price, head of Insomniac Games, opened the Dice Awards by saying games are our shared language for connecting with people like our children and other gamers.
He said he was heartened by the industry's efforts to make games more accessible to all audiences. He pointed to God of War: Raganok for having accessibility features so that no players had to feel excluded.
He noted the industry's own struggles in making workplaces into safe, inclusive, and diverse places to work, regardless of race, gender, sexual orientation or country of origin.
He noted how the pandemic erased geographic boundaries and remote work led people to working across national boundaries. But he also noted the struggle in places like war-torn Ukraine, and he said, "We stand in solidarity with Ukraine."
He added, "Ultimately, these bonds between all of us and this deep sharing with our peers and our players is what I love about this industry. It's what brings us and I would argue the entire world closer together when there are so many forces trying to tear us apart. Tonight, let's celebrate these connections whether we are sitting next to our peers and friends here at the tables at Dice or are watching from thousands of miles away. Let's cheer together for these wonderful works of art that bridge divides and connect us all."
Greg Miller and Stella Chung did a great job hosting the show and making game-savvy jokes.
Tim Schafer's Hall of Fame award
Tim Schafer, the founder of Double Fine Productions and creator of quirky games from The Secret of Monkey Island to Psychonauts 2, won the award for the AIAS Hall of Fame for his decades of work in games. He was part of a 32-part documentary on how Double Fine spent seven years making Psychonauts 2.
Asked what should inspire students to make games, he said you should be honest about what inspires you and move toward that, rather than what you think is financially viable. Regarding generative AI potentially replacing game developers, he said that he doesn't think that will happen. He believes it can be a tool for initiating the creative process but it still takes a human artist's eye to bring that creation home.
Asked what he left out of his speech, he said he was going to tell a story about being in the 8th grade and asking in a letter to Analog Magazine how he could get a job in video games. He never got an answer. Part of the reason he made the documentary was he wanted to show people that there are so many jobs people don't know exist in video games and they should think about them as they apply for those jobs.
I asked him why he thought it was a great idea to have a documentary camera crew always filming him and his team. He said it started as a short documentary and then took on a life of its own.
"It wasn't my idea," he said. "They started with an interview, and that was it. Then it kept going. I found the creative process so interesting to document. These things often get credited as my creations. If you look back at the old meetings, you see really important ideas come out of this person's mouth or that person's mouth. I feel like the creative conversation is a fascinating thing to watch."
The God of War: Christopher Judge
Christopher Judge gave a shorter acceptance speech this time for the award for Outstanding Achievement in Character for voicing Kratos in God of War: Ragnarok. He said he felt guilty accepting the award because he was part of a cast and team that put their hearts into the work. It was touching, even if he was able to talk in less than five minutes compared to his long speech at The Game Awards.
"I really want to accept this as a cast award," he said. "It was truly a joy. Sunny (Seljic, who played Kratos' son Atreus), your time is coming man. I made no secret of the great pain it caused me every time one of my children left the house to go on their own adventures. And you allowed me to have a kid again. What I enjoyed most in the world was interacting with my children. You allowed me that. I can't wait to see how far you fly, man."
In a room after the awards, Judge stopped to talk with the press. He noted how he felt like actors should bring the same skills to the table, whether they are acting in motion-capture suits for games or acting in theater or film or TV.
"I don't think it's different," he said. "My process is exactly the same. No matter what the medium is. I wouldn't advise them to change their process at all. It just boils down to how much of the ugly terrible shit in their life are they willing to have on the record. The deeper and more painful it is, the better you're going to be."
I asked him if there was anything he left out of his acceptance speech.
"I wish I could have I wish I could call everyone at the studio by name," he said. "Because everyone deserves the recognition."
And he wished he could thank fans more. He said he hoped the fans didn't "f*** with each other" so much.
"It doesn't matter what you're a fan of. There's more that you have in common with each other than separates you," he said. "What you love, doesn't matter what platform it's on. Doesn't matter what publisher doesn't matter. So be easier on each other. But there are enough others who want to be shitty to you. Outside of this gaming space. Why not make this game gaming space a safe space for gamers? Let people be entitled to their opinions."
Elden Ring
Of course, the big winner of the night wasn't God of War: Ragnarok, which went home with seven awards. From Software's Elden Ring took the top honors for Game of the Year, and Hidetaka Miyazaki was one of those who accepted the award.
In the press room, I asked Miyazaki if it surprised him that so many players loved difficult games.
"Very surprised," he said in English, laughing.
Then he added, through a translator, "Obviously it's a hardcore game no doubt. I'm very surprised there are so many players out there playing this game. But that reminded us that our philosophy is actually correct. Trust the players out there. We're happy about that."
My hat's off to AIAS and Meggan Scavio for pulling off another great show, which was another record-setting event in terms of attendance.
GamesBeat's creed when covering the game industry is "where passion meets business." What does this mean? We want to tell you how the news matters to you — not just as a decision-maker at a game studio, but also as a fan of games. Whether you read our articles, listen to our podcasts, or watch our videos, GamesBeat will help you learn about the industry and enjoy engaging with it. Discover our Briefings.