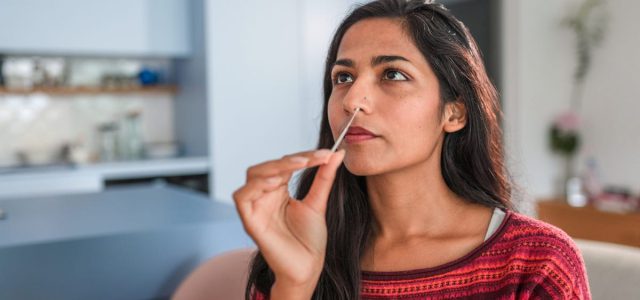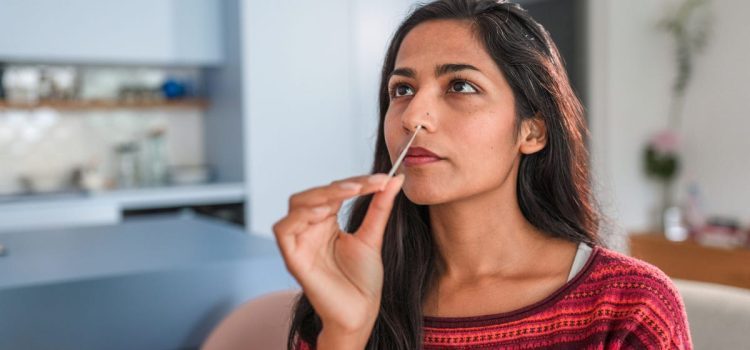 The US Food and Drug Administration on Friday announced the authorization of the first at-home, over-the-counter test that can tell you whether you have...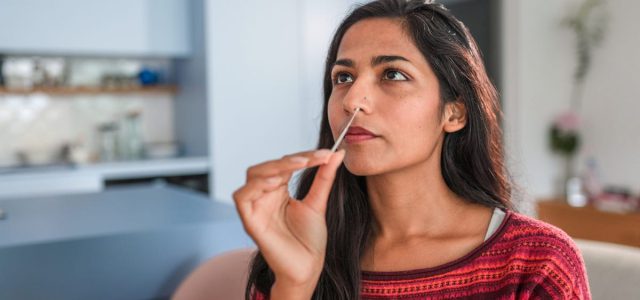 The US Food and Drug Administration on Friday announced the authorization of the first at-home, over-the-counter test that can tell you whether you have the virus that causes COVID-19 or influenza, all through a single swab of the nose. 
The Lucira COVID-19 & Flu Home Test is a nasal swab test which uses nucleic acid amplification, and it's for people ages 2 and older with symptoms of a respiratory virus. Within 30 minutes, the test can tell users whether they're positive or negative for COVID-19, influenza A and influenza B, the FDA said in a news release. The A and B strains of the flu are responsible for the flu season every year. 
However, just days before the FDA announced its emergency authorization of the dual COVID-19 and flu at-home test, the test's maker, Lucira Health, declared bankruptcy. In a statement Feb. 22, Lucira called the FDA's approval process "protracted," adding that it expected the FDA to green-light its over-the-counter flu and COVID-19 test by August 2022, before the flu and COVID-19 burden was high, and a test that could detect both would be in higher demand. Lucira's bankruptcy was previously reported by STAT news and other media.
A customer representative for Lucira Health told CNET that people in the US can't buy an over-the-counter flu and COVID-19 test right now because the company is still waiting for information from headquarters on when it will be available, how much it will cost and whether Lucira will be purchased by another company before it dissolves. Lucira sells other tests, including a COVID-19 and flu test for health care use that requires a prescription, and a molecular at-home COVID-19 test.
Still, even with the bumpy road Lucira is currently on, the authorization of a prescription-free test that can detect both COVID-19 and the flu is an advancement for home health care, especially during the fall and winter seasons when both viruses are expected to spread widely with typically similar symptoms, such as cough, sore throat, fever and congestion. While symptoms may be similar in many people, flu and COVID-19 are different viruses with different treatments. 
Getting treated early for either virus reduces someone's risk of getting severely sick. 
Jeff Shuren, director of the FDA's Center for Devices and Radiological Health, said in a news release that the authorization of Lucira's test "is a major milestone in bringing greater consumer access to diagnostic tests that can be performed entirely at home."
"We remain committed to working with test developers to support the shared goal of getting more accurate and reliable tests to Americans who need them," Shuren said. 
In its news release, the FDA said the Lucira test detected 88.3% of positive COVID-19 samples, and 100% of the negative samples, in addition to 90.1% of positive Influenza A samples and 99.3% of negative influenza A samples. There weren't enough cases of influenza B circulating to include in the clinical study, the FDA said, but validation confirmed the test can detect influenza B in "contrived specimens."
Like other tests for viruses, false negatives or positives may happen, though the degree to which that happens may depend on the type of test and other factors. This is why the public health advice is to continue taking protective measures if you have symptoms of a respiratory virus but continue to test negative, including avoiding public spaces and contact with people who are at higher risk of getting really sick from COVID-19 or the flu.
See also: COVID Vaccines in 2023: What We Know and What We Don't  
Read more: The COVID Public Health Emergency is Ending. Here's What Will Happen to Health Care 
The information contained in this article is for educational and informational purposes only and is not intended as health or medical advice. Always consult a physician or other qualified health provider regarding any questions you may have about a medical condition or health objectives.