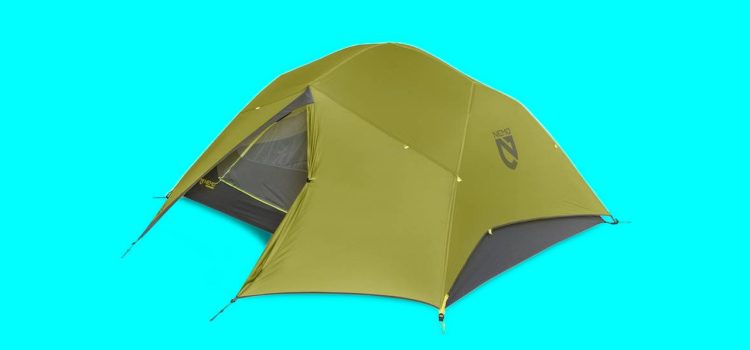 At a campground last week I watched someone set up what looked like an old-school canvas tent, complete with a wood-burning stove in it...
At a campground last week I watched someone set up what looked like an old-school canvas tent, complete with a wood-burning stove in it (it is winter), and I thought: See, you don't really need all that expensive high-tech gear. Army tents still work. When I got home, I looked up that tent and realized it was more expensive than most of my backpacking equipment combined. Never mind, I'll stick with the lightweight nylon.
I'm not new to camping the new-fashioned way. I test a lot of different options, and recently I've been enjoying Nemo's Dagger Osmo 3P tent. It's a three-person (sort of) freestanding, double-walled tent made of a new fabric Nemo calls Osmo. It's not cheap, but the new Osmo fabric is a nylon-polyester blend made with 100 percent recycled nylon and polyester yarns, woven in such a way that it stretches less and repels water more than nylon alone. It's also made without the use of flame-retardant chemicals or fluorinated water repellents (PFC and PFAS). Nemo is using this new fabric on its Dagger and Hornet Elite tents.
While the new fabric is a nice extra, what I like most about the Osmo 3P is that it's a solid, roomy, lightweight tent capable of withstanding considerable wind without so much rippling in the tent.
Pick A Size
Nemo makes both two- and three-person models of the Dagger Osmo. While I have only tested the three-person version, aside from the dimensions and weight there isn't any difference between the two. In fact, given how roomy the three-person is, this is one tent where I would say couples looking at the two-person version actually don't need to size up.
The three-person model is 90 by 70 inches for a total of 41 square feet of living space. I had no trouble getting three 25-inch sleeping mats in it, and the length was enough to accommodate my 5'10" height with about 5 inches to spare. The max height at the center of the tent is 42 inches, making it rather low-profile, which helps make it aerodynamic. That squat aerodynamic aspect proved welcome during a couple of very windy nights testing in the Porcupine Mountains, where local wind sheer was well over 50 mph.
Setting the tent up wasn't hard. The Osmo comes with one multi-segmented pole that's single down the main length of the tent, forking at each end with a cross pole in the middle. The four endpoints fit into corner Jake's feet connectors. The all-in-one design means the poles are slightly bulkier when packing it up, but makes the setup super simple. The cross-body pole also does a good job of staking out the sides to create more vertical sidewalls for increased living space.
The sidewalls of the inner tent start off solid Osmo fabric for the first 6 inches, then transition to white mesh that's still see-through but less than black, which affords you a bit more privacy even with the rain fly off. The top of the tent is black mesh, which provides great ventilation and makes for excellent stargazing on clear nights. That said, the huge amount of mesh means this tent is definitely in the three-season category; I didn't have an opportunity to test it below freezing, but did spend several autumn nights in the lower 40-degrees Fahrenheit and was quite comfortable.
Osmo Fab
The rain fly is where the bulk of the Osmo fabric comes in, and I found that it lives up to its hype. I didn't encounter any torrential rains, but it held up in some high winds and moderate rains. I also really liked that the Osmo is a muted gray-green rather than the more neon color schemes of some other Nemo tents.
The rain fly provides two equal vestibules at either door. Both have zippers at either end for venting or getting in and out. There are also two vent flaps at the top with stays to keep them open, so condensation doesn't build up in a prolonged rain storm. The vestibules were easily big enough to store three packs and three pairs of boots, and you can get what Nemo calls landing zones—an optional vestibule floor that clips into color-coded tabs on the tent and vestibule, creating a little gear hammock just off the ground.
The inside organization is a little bit limited. There are some side pockets on the walls and overhead pockets that are primarily intended to hold a headlamp and diffuse the light. Personally, I just need a pocket for glasses and a headlamp, which the Osmo offers, but if you like tons of storage space, that's something to keep in mind.
The Dagger Osmo is what Nemo calls an ultralight tent, which means it's light and packs small, but also that it's a little more fragile than a heavier, more traditional nylon tent. I didn't have a footprint to place below it, but I would highly suggest one to help protect the floor. I also find that ultralight tents benefit from more careful attention to site selection, setup, and breakdown. Spending a minute to clear sharp debris before you pitch your tent will go a long way to helping it last.
I really love this tent. It's lightweight, packs small, and is easy to divide between hiking partners. Setup is quick and it sleeps three with gear. The new fabric performed well and is relatively ecofriendly. It stacks up well against the competition too. It is longer than the popular MSR Hubba Hubba, with more vestibule space; on the other hand, the Hubba Hubba has more storage options in the form of a gear loft and larger pockets. Depending on what you prefer, I think this is easily as good, and ranks among my favorite tents today.