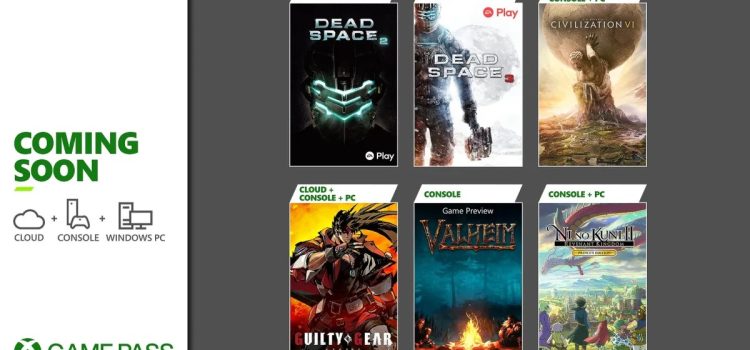 Connect with top gaming leaders in Los Angeles at GamesBeat Summit 2023 this May 22-23. Register here. Xbox announced today which games are coming...
Connect with top gaming leaders in Los Angeles at GamesBeat Summit 2023 this May 22-23. Register here.
---
Xbox announced today which games are coming to Game Pass for the first half of March. It's a slightly leaner offering than we've seen in the past — several of the titles are already on Game Pass but are heading to more devices. But that's no reason to scoff at the list, which includes Guilty Gear and Civilization titles.
Guilty Gear -Strive-, the newest entry in the venerable 2D fighting game series, joins Game Pass today. Later this week, Dead Space 2 and Dead Space 3 are coming to Game Pass cloud users. Both are already available for PC and console players, but it makes sense to make them more accessible given the remake of the first game recently launched. Similarly, Valheim (which is already available for PC players) joins for console players next week.
The final two games on the list are Civilization VI, which rolls out for all players on March 16. The final addition, Ni No Kuni II: Revenant Kingdom — The Prince's Edition, joins two weeks from now on March 21.
Xbox seems to have finally corrected Game Pass's strange release schedule in early 2023, where it spread a smaller number of releases over more weeks than usual. The first quarter of the year is generally a lighter period for Game Pass, at least in terms of Day One releases. There are none in this update, and there was only one (Wo Long: Fallen Dynasty) in the previous one.
Event
GamesBeat Summit 2023
Join the GamesBeat community in Los Angeles this May 22-23. You'll hear from the brightest minds within the gaming industry to share their updates on the latest developments.
Game Pass users are losing more than they're gaining in this update. The list of games leaving the service at the end of this period includes Marvel's Guardians of the Galaxy, Undertale, Zero Escape: The Nonary Games, Kentucky Route Zero, Paradise Killer and Young Souls. All of these leave the services on March 15.
GamesBeat's creed when covering the game industry is "where passion meets business." What does this mean? We want to tell you how the news matters to you — not just as a decision-maker at a game studio, but also as a fan of games. Whether you read our articles, listen to our podcasts, or watch our videos, GamesBeat will help you learn about the industry and enjoy engaging with it. Discover our Briefings.