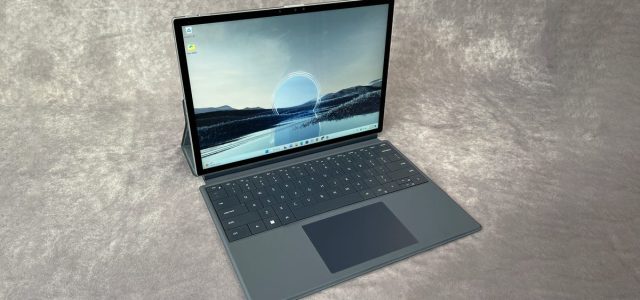 The newest XPS 13 two-in-one from Dell looks and feels a lot like the Surface Pro from Microsoft. Yes, there are many other Windows...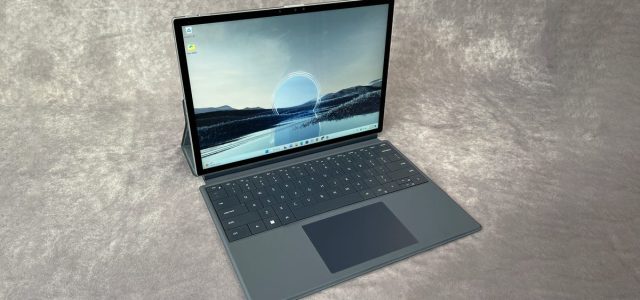 The newest XPS 13 two-in-one from Dell looks and feels a lot like the Surface Pro from Microsoft. Yes, there are many other Windows tablets with clip-on keyboards, but the Surface is the original and still best known, so it's the one you're most likely to compare with this. 
I've always been a fan of the XPS line in general, and specifically the XPS 13 clamshell laptops. This two-in-one version has some of the same aesthetically minimalist touches and mod-feeling matte aluminum body. Even better, it costs a good deal less than a comparable Surface Pro, depending on how you configure each system. 
Like
Less expensive than some competing products
Fanless, silent operation
Excellent keyboard feel
Don't Like
Kickstand implementation is poor
Keyboard lies perfectly flat
No headphone jack
A Surface Pro 9 with a Core i5 CPU, 16GB of RAM and a 256GB SSD, along with the keyboard cover, is $1,578. A similarly configured XPS 13 two-in-one, also with the keyboard cover, is $1,299. And that's with a bigger 512GB SSD, too. An exact comparison is tough because the Surface Pro 9 doesn't offer a pairing of Core i5 and 512GB, while the XPS 13 two-in-one offers only 512GB and 1TB storage options. Prices can also change regularly with limited time discounts and deals. (As of this review, the Surface Pro 9 is offering a free keyboard cover for a limited time, a savings of $179.)
There's also an ARM-based Surface Pro 9 (the model we reviewed) that uses Microsoft's SQ3 chip instead of one from Intel and adds 5G support, but there's no comparable XPS two-in-one option for that. 
Dell XPS 13 9315 2-in-1
| | |
| --- | --- |
| Price as reviewed | $1,299 |
| Display size/resolution | 13-inch 2,880×1,920 Touch |
| CPU | 1GHz Intel Core i5-1230 |
| Memory | 16GB LP-DDR4 |
| Graphics | 128MB Intel Iris Xe Graphics |
| Storage | 512GB, M.2, PCIe NVMe, SSD |
| Networking | Wi-Fi 6E 1675 (AX211) 2×2 + Bluetooth 5.2 |
Keyboard and kickstand sins
But configured as closely as possible, there's a pretty big price difference. Still, I'm still not sure I would go with the XPS two-in-one over the Surface Pro 9. Why? Because the two things the Surface has perfected about tablet/laptop hybrids, the kickstand and the keyboard cover, are not quite as perfected here. 
And that's a shame because the 13-inch 2,880×1,920 screen is bright and rich-looking. It's rated for 500 nits brightness, and in practice it makes for a very good TV/movie streaming device when lying in bed. The Surface Pro supports a faster 120Hz refresh rate, versus just 60Hz here. That can mean smoother video, but also have an impact on battery life. Having a higher, or variable, refresh rate is a nice feature to have, but most people will be happy with a 60Hz screen. 
But the keyboard cover, which Dell calls the XPS Folio, is a letdown. I'll start with the good news: It's just $100 extra, not the criminal $179 Microsoft charges for its keyboard cover. But unlike the Surface keyboard, which can angle up at the back for a more ergonomic experience, the Dell version sits flat on your desk and that's it. The actual keys are large, flat, edge-to-edge-style keys, which is a good use of limited space, and in fact, it feels more like a solid laptop keyboard than the Surface version. But, the lack of any kind of incline option made it feel awkward. 
A far bigger sin is how the kickstand is incorporated into the XPS Folio itself, instead of being built into the tablet. That means to prop up the XPs 13 two-in-one, you need the full keyboard cover attached, even if you just want to prop the tablet up like a standalone screen. While the Surface Pro allows for almost unlimited kickstand angles, the back of the XPs Folio slides down into three magnetic stops, and it's entirely possible none of them will feel exactly right to you. 
Fanless performance 
Once you get past these design foibles, the XPs 13 two-in-one is a respectable performer for a U-series Core i5 Windows system. It's fanless, which makes it totally silent and helps battery life, even if it's a theoretical limiter on overall performance because the heat needs to be regulated. 
A current M2 MacBook is faster, as is the Core i7 XPS 13 Plus and the most recent Core i5 XPS 13, but not by a huge amount. I'd call this a perfectly fine PC for mainstream tasks and even some photo or video work. 
Battery life is also nearly 7.5 hours on our online video streaming test. Again, nowhere near what some other laptops with bigger batteries can pull off, but still very good if you're going to be doing a lot of video streaming. 
This see-sawing list of pluses and minuses leave the XPS 13 two-in-one in a strange place. The price is right, considering the components, accessories, design and performance. But in some of the quality of life issues, it falls behind the more expensive Surface Pro line, and you'll have to decide if the price tradeoff is worth it for the kickstand and keyboard differences. 
System configurations
| | |
| --- | --- |
| Dell XPS 13 9315 2-in-1 | Microsoft Windows 11 Home; 1GHz Intel Core i5-1230U; 16GB DDR4 4,266MHz RAM; 128MB Intel Iris Xe Graphics; 512GB SSD |
| Dell XPS 13 9315 | Windows 11 Home; 1GHz Intel Core i5-1230U; 16GB DDR5 6,400MHz RAM; 128MB Intel Iris Xe Graphics; 512GB SSD |
| Dell XPS 13 Plus 9320 | Windows 11 Home; 1.8GHz Intel Core i7-1280P; 16GB DDR5 6,400MHz RAM; 128MB Intel Iris Xe Graphics; 512GB SSD |
| Microsoft Surface Pro 9 | Microsoft Windows 11 Home; 3GHz Microsoft SQ3; 16GB DDR4 RAM; 7,889MB shared Qualcomm Adreno graphics; 256GB SSD |
| Microsoft Surface Pro 8 | Microsoft Windows 11 Home; 3GHz Intel Core i7-118G7; 16GB DDR4 RAM; 128MB Intel Iris Xe graphics; 256GB SSD |
| Apple MacBook Air (13-inch, M2, 2022) | Apple MacOS Monterey 12.4; Apple M2 8-core chip; 8GB RAM; Apple 10-core GPU; 256GB SSD |
| Asus ROG Flow Z13 | Microsoft Windows 11 Home; 2.5GHz Intel Core i9-12900H; 16GB DDR5 6,400MHz RAM; 4GB Nvidia RTX 3050 Ti graphics; 1TB SSD |
The best laptops in every category