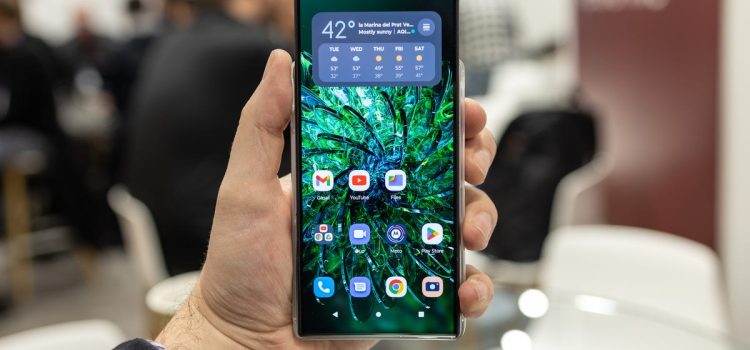 Imagine if your phone or tablet could change the size of its screen depending on what you're doing? That's the future Motorola and Samsung...
Imagine if your phone or tablet could change the size of its screen depending on what you're doing? That's the future Motorola and Samsung envision, as both companies showcased concept devices capable of extending or shrinking their displays with the press of a button. 
Motorola flaunted its concept at Mobile World Congress this week, while Samsung exhibited a slew of shapeshifting prototypes at CES in January. Such concepts prove phone makers are thinking about the next evolution of personal devices beyond today's static touchscreens. They're even looking beyond foldable phones, which have only been widely available for a little more than three years. 
But as eye-catching as these concepts are, it'll likely be a long time before you're carrying one around. High prices, engineering and durability challenges and a lack of compelling use cases will likely mean these concepts won't turn into real products anytime soon. And if they do, there are still good reasons why you should wait before buying one. 
Rollable phones are eye-catching
Conceptual devices with expandable screens have surfaced before, but they've garnered attention again this week at Mobile World Congress thanks to Motorola and its parent company Lenovo. 
Motorola showcased its prototype palm-sized phone that extends with the double press of a button. And even better, the screen automatically unfurls when using certain apps like YouTube, according to my colleague Andrew Lanxon, who got to see the device at the conference. The phone may also switch between small and large mode depending on what you're doing within an app. For example, the phone may stay tiny when you're scrolling through your inbox, but it could automatically expand as you compose an email, Lanxon writes. 
When the device is in its compact form, the display wraps around the bottom of the device to provide a secondary screen on the back of the phone. I can't think of many other reasons to use this extra screen other than as a viewfinder for taking selfies with the rear camera, as Lanxon did during his demo. Regardless, it's intriguing to see how Motorola is thinking about putting that technology to use. 
Even though phones with rollable screens are in their infancy, they could present some notable advantages over today's foldables, according to Ross Young, CEO and co-founder of Display Supply Chain Consultants. The crease may be smaller since it would be located at the edge of the device rather than in the center, he said via email. Rollable phones will also likely be thinner than current devices like the Galaxy Z Fold 4, which resembles two phones stacked on top of one another when folded. 
But those benefits will probably result in additional engineering challenges. The motors and sliding mechanisms likely require more power consumption, says Young.
"Some brands told us there is a lot of work still to be done," he said. 
It's not the first time Motorola has shown a concept like this; the phone maker also showcased the tech at Lenovo's Tech World conference last year. But its arrival at MWC underscores Motorola's ambitions in this area.
Motorola isn't the only company interested in making phones with screens that can roll, slide and expand. Nearly two months ago, Samsung exhibited its own vision for what futuristic phones and tablets could look like. The star of the show was the Flex Hybrid concept, which looks like a notebook when closed but can switch between 10.5-inch and 12.4-inch screen sizes when opened. 
LG also made a splash with the rollable phone concept it teased at CES 2021, although the company shut down its mobile phone business shortly thereafter. Chinese tech giant Oppo has developed a rollable phone concept with a 6.7-inch screen that transforms into a 7.4-inch tablet-sized display. 
At the same time, foldable phones — which are generally considered to be the precursor for future rollable devices — still only account for a sliver of the overall smartphone market. Foldable phones are estimated to have accounted for just 1.1% of smartphone shipments in 2022 and are expected to make up 2.8% in 2026, according to International Data Corporation. But that hasn't stopped phone makers from looking ahead.
"They've got to keep innovating to differentiate," said Brad Akyuz, executive director and mobile analyst at NPD Group. "That's the only way they can just get ahead of the competition." 
But don't count on buying one anytime soon
The word "concept" is crucial; these devices aren't products. Instead, they're proofs of concept meant to illustrate the direction these companies may take when developing future smartphones. That means we don't know when rollable phones from Motorola, Samsung or other device makers will launch, if ever. 
The foldable phone market could serve as a blueprint. Samsung demonstrated flexible display technology as far back as 2013, but it didn't release its first phone that could fold in half until 2019. 
Whether a rollable phone arrives in the near term or not, analysts believe it'll take several years for the devices to become a regular fixture in the tech world. Akyuz pegs that at around three to four years, while Bill Menezes, a director for market researcher Gartner covering the telecoms industry, estimates three to six years.
There are a variety of reasons why, all of which mirror the challenges that the foldable phone industry is going through. Prices need to be affordable, and phones must be durable enough to withstand everyday use without concern. 
They should also offer compelling features that significantly improve the way you use your mobile device to make them worthwhile. Even though today's foldables have different designs that make our phones more compact when closed, the overall experience is the same as that of using a standard phone. Samsung is trying to address this with a feature called Flex Mode, which divides compatible apps across the top and bottom portions of the display when folded halfway. But this feels more like an optimization than a brand new way to use your phone.
"A foldable phone really isn't that much different than a flat phone concept," said Menezes. "Once you open it, you're still scrolling through to get to different applications, or different screens or tabs."
Even if a company like Motorola or Samsung does release a rollable phone in the near future, you probably shouldn't buy it. First-generation products can be expensive, damage-prone and not as polished as later iterations. 
Take the Galaxy Fold from 2019, for example, which Samsung postponed launching after a small number of reviewers reported issues with the display. That phone was also priced at $1,980, while the much-improved Galaxy Z Fold 4, which just launched in August, starts at $1,800. Samsung's smaller foldable, the Galaxy Z Flip, has also matured; the first version had a tiny screen that barely felt useful and lacked 5G. 
Now, more than three years after the Galaxy Fold's launch, demand for foldable devices is starting to accelerate. Even though IDC's report suggests foldables only account for a fraction of the smartphone market, shipments are estimated to have grown by 66.6% in 2022 compared to 2021. NPD Group's Connected Intelligence Mobility Survey also suggests interest is growing. While 51% of survey respondents said they were not likely at all to buy a foldable phone in 2019, only 36% said the same in 2022, according to data from the survey shared with CNET.  
"I think this is the future, I don't think we can deny that," Akyuz said. "But as we've seen with the foldable category, it's just going to take some time to get there."