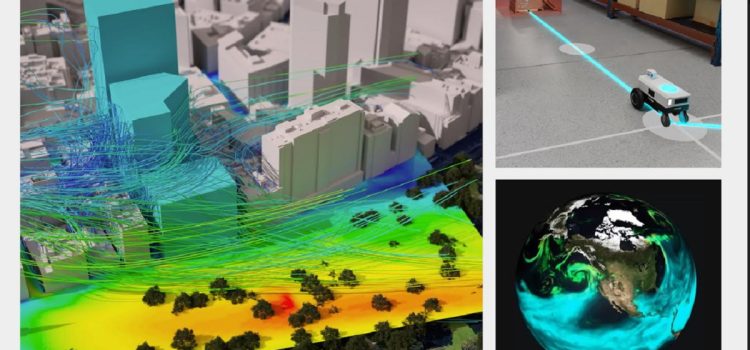 Connect with top gaming leaders in Los Angeles at GamesBeat Summit 2023 this May 22-23. Register here. The 14th annual Nvidia GTC online event...
Connect with top gaming leaders in Los Angeles at GamesBeat Summit 2023 this May 22-23. Register here.
---
The 14th annual Nvidia GTC online event will have more than 650 sessions, including 70 alone on generative AI.
The online event will take place on March 20 to March 23, and my own session on the industrial metaverse will air on the morning of March 22.
Greg Estes, vice president of marketing at Nvidia, said in an interview that much of the content for the event about Nvidia's technology ecosystem will center on talks about generative AI, the metaverse, large language models, robotics, cloud computing and more. Register here for free.
Leaders from hundreds of organizations will present including AWS, Dell Technologies, Deloitte, Epic Games, Ford, GM, Google, HPE, Jaguar Land Rover, Lenovo, Lockheed Martin, Microsoft, Oracle Cloud, Pixar, Samsung, Shell, Target, TSMC, U.S. Space Force and VMware.
Event
GamesBeat Summit 2023
Join the GamesBeat community in Los Angeles this May 22-23. You'll hear from the brightest minds within the gaming industry to share their updates on the latest developments.
"We are feeling very good about the impact that GTC is having in general because we've got at least a quarter of a million people who are going to are going to register," Estes said. "It could actually be considerably higher than that. That's one measure of [successs]. The second thing is about the quality of the speakers we are getting like Ilya Sutskever, cofounder of OpenAI, sitting down with Jensen."
The show will kick off with founder and CEO Jensen Huang's keynote, which will be livestreamed on Tuesday, March 21, at 8 am Pacific time.
Notable sessions
Perhaps the most interesting session will focus on OpenAI, the creator of the viral AI sensation ChatGPT. Ilya Sutskever, cofounder and chief scientist of OpenAI, will join Huang for a fireside chat on AI today and a vision of the future.
Demis Hassabis, CEO and founder of DeepMind, will cover DeepMind's efforts in using AI to accelerate scientific discovery. And Emad Mostaque, founder and CEO of Stability AI, will discuss Stable Diffusion and how it has enabled the explosion of generative AI tools.
Scott Belsky, chief product officer at Adobe, will join a fireside chat with Bryan Catanzaro, vice president of applied research at NVIDIA, on how generative AI is transforming the creative process. Anima Anandkumar, senior director of machine learning research, will join colleagues from Nvidia and Shell to discuss how Earth simulation and modeling can help develop climate change mitigation strategies.
Bill Dally, chief scientist and SVP of research at Nvidia, will cover recent highlights from Nvidia Research.
Members of Nvidia's auto and research teams will describe how generative AI is revolutionizing AV development.
"Nvidia has become an AI factory. Our customers use us as this foundry, where they can train models, create their own workflows and they can do whatever they want," Estes said. "And in terms of starting from scratch the real basics if they want, or they can come to us with fully realized solutions, and we can just help them tune in a little better."
Nvidia's Bryan Catanzaro will try to demystify generative AI for a broad audience.
Pioneering AI artist Refik Anadol will explain AI's influence on art with curators from the New York Museum of Modern Art and Nvidia vice president Richard Kerris. A panel of experts will explain how AI and simulation will advance robotics.
Multiple sessions on how generative AI can be applied from content creation to graphics to drug discovery by Amgen, Autodesk, AWS, Evozyne, GM, Icahn School of Medicine at Mount Sinai, London College of Fashion, Microsoft Research and SK Telecom.
The metaverse and Omniverse
My own session on a status update on the industrial metaverse will feature leaders from Siemens, BMW, Bentley Systems and Nvidia to discuss industrial applications of the metaverse. But there aren't 70 sessions on the metaverse.
Does this mean that generative AI is outshining the metaverse?
"That's such an interesting question. The crazy part of the idea of companies creating these 3D worlds for consumers to interact in harkens back to Second Life," Estes.
There is some craziness around that. But Nvidia is focused on industrial and enterprise interest in the metaverse, where the ecosystem of companies is taking advantage of Nvidia's Omniverse collaboration tools. He said Omniverse is like the bedrock of businesses that are building digital twins, and doing product design and doing robotic simulation, factory planning, and so on. This is the revenue-generatig part of the metaverse, he said.
"We're kind of the industrial metaverse. We've ever attempted to be part of the craze part of the metaverse. We're the ones that are focusing on businesses. And so what you can see at GTC is a lot of examples of the biggest names you can think of in different industries,basing their workflows, doing real business work, and using Omniverse."
And with Omniverse, Nvidia is taking a more open approach of connecting tools from different companies around standards like Universal Scene Description, used to share 3D assets, rather than competing with the likes of Autodesk, Adobe and more. Nvidia will provide the underlying hardware and some of the software infrastructure as well.
"We're sitting in the middle of all that," he said.
Startups and venture
Nvidia Inception, a startup program with more than 13,000 members, will host tracks aimed at helping startups grow their businesses and gain industry knowledge. The Nvidia Venture Capital Alliance program, which has 400 VC firms as members, will host sessions designed for investors.
Overall, Nvidia has mmore than four million developers in its developer program.
"That has continued to grow at a very rapid clip," Estes said.
The sessions include talks on essential tech for GenAI startups. Those AI startups will learn about the performance, cost, and scalability benefits of using Nvidia software development kits (SDKs) for accelerating generative AI with Nvidia technologies.
Focusing on venture capital themes for the year, Nvidia experts will cover the latest breakthroughs in generative AI, and a panel of VCs will discuss startups that are leveraging new AI-generated approaches. Startup founders will also explain how they are developing new generative AI solutions and navigating a dynamic market.
Diversity and inclusion
​​Estes said GTC is an open, all-access event available globally. Developers, researchers, scientists, educators, professionals and students from historically underrepresented groups are encouraged to participate. As part of Nvidia's efforts to increase AI workforce readiness and create a more inclusive AI ecosystem, GTC will host training and sessions.
A panel of AI experts will discuss their career journeys, including their challenges and key learnings in their bids to change the world. Nvidia researchers will share their professional experiences and tips for students to accelerate AI research.
Additionally, Nvidia is providing credits for Nvidia Deep Learning Institute workshops at GTC to minority-serving institutions like HBCUs, HSIs and community colleges.
"We continue to bring in the absolute top brightest minds in not just AI but in supercomputing and graphics and everything," he said. "GTC, I think has as really expanded from our humble beginnings. We've certainly attempted to create a unique place for GTC in the world where we were either the only conference or one of a very few that brings together the academic researchers and the enterprises and the whole ecosystem of players together. Things that started off as early research are now at the big enterprises like MasterCard, Pepsi, Netflix and General Motors, Target and Sony."
The right moment in time
Estes said he is proud that big corporations use GTC to talk about new innovation. While ChatGPT took everyone by surprice, Nvidia's program was already headed deep into generative AI, Estes said.
"The whole world changed a few months ago. Right. With ChatGPT and generative AI, it wasn't very long ago that you might, if you weren't here at Nvidia, be at a barbecue and I'd have trouble explaining what you do for a living to your neighbors down the street. There are quite a few areas that really sparked the public's imagination."
Nvidia's is positioning itself as the company with the platform that people will use to take advantage of the new technologies like ChatGPT.
Rather than make GTC the biggest tech conference, Estes said the goal is being helpful for the community.
"I am very proud of the fact that the team works very hard to make it so that we're doing everything that we can to be just a really impactful and useful conference for developers and researchers first," Estes said. "I think we'll have record numbers this time. But it's about big. It's about impactful."
At some point, Estes believes the event will go back to physical but he isn't certain when that will be yet.
"GTC is the perfect place at the perfect time for the industry to come together and compare notes, learn about what people are doing, and announce new products and technologies," Estes said.
GamesBeat's creed when covering the game industry is "where passion meets business." What does this mean? We want to tell you how the news matters to you — not just as a decision-maker at a game studio, but also as a fan of games. Whether you read our articles, listen to our podcasts, or watch our videos, GamesBeat will help you learn about the industry and enjoy engaging with it. Discover our Briefings.