Enlarge / Satellite broadband user terminals designed by Amazon's Project Kuiper. Amazon Amazon has designed three satellite broadband user terminals and will start offering...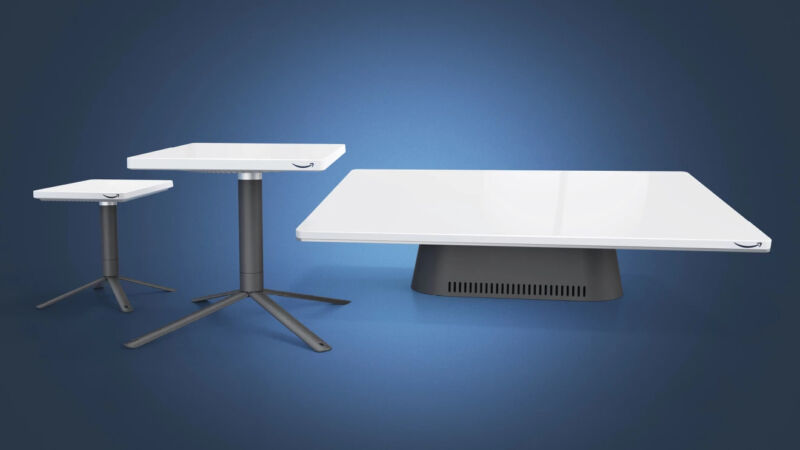 Amazon has designed three satellite broadband user terminals and will start offering Internet service in 2024, the company announced today. The standard terminal, designed for residential and small business customers, is expected to cost Amazon less than $400 to make; Amazon did not say what it will charge customers for the terminals or for monthly service plans.
The "standard customer terminal measures less than 11 inches square and 1 inch thick," Amazon said. "It weighs less than five pounds without its mounting bracket. Despite this modest footprint, the device will be one of the most powerful commercially available customer terminals of its size, delivering speeds up to 400 megabits per second (Mbps). Amazon expects to produce these terminals for less than $400 each."
Amazon's standard terminal for residential and small-business customers.


Amazon

Amazon's smallest satellite broadband terminal.


Amazon

Amazon's largest satellite broadband terminal, designed for enterprise, government, and telecommunications applications.


Amazon
Whether customers actually get those speeds in practice will depend on the satellites and how congested the network is in each region, as the experience of SpaceX Starlink customers shows. Amazon didn't differentiate between download and upload speeds in its announcement, but upload speeds are likely to be slower than downloads.
There will also be a smaller terminal that's even cheaper to produce than the standard residential model, Amazon said. This "ultra-compact" equipment has a square design, weighs 1 lb, and measures 7 inches, while providing lower speeds of up to 100Mbps, Amazon said. It "will connect residential customers who need an even lower-cost model, as well as government and enterprise customers pursuing applications like ground mobility and Internet of things (IoT)," Amazon said.
Finally, Amazon plans a larger terminal measuring 19 inches by 30 inches, which will be able to provide speeds up to 1Gbps. Amazon said it is "designed for enterprise, government, and telecommunications applications that require even more bandwidth." The three terminals are the product of several years of development; Amazon showed off a prototype in December 2020.
Terminals use Amazon's "Prometheus" chips
The terminals will use Amazon-designed baseband chips that combine "the processing power of a 5G modem chip found in modern smartphones, the capability of a cellular base station to handle traffic from thousands of customers at once, and the ability of a microwave backhaul antenna to support powerful point-to-point connections," Amazon said.
Amazon calls the custom chip design "Prometheus" and said it will also be "used in Project Kuiper's satellites and ground gateway antennas, allowing the system to process up to 1 terabit per second (Tbps) of traffic on board each satellite."
Amazon's Project Kuiper division has been planning a network of low Earth orbit satellites since at least 2019, aiming to eventually challenge the SpaceX Starlink service that is already operational. Starlink raised the price of its standard terminal from $499 to $599 last year and more recently announced a monthly service price increase for users in "limited-capacity" areas. Starlink's new prices are $120 a month for residential users in those congested network areas and $90 a month for people in "excess-capacity" areas.
Starlink's early user terminals cost about $3,000 to produce, but SpaceX cut its design costs to under $1,500 by early 2021.
Amazon targets late 2024 for first customers
It could still be well over a year before anyone gets to use Project Kuiper broadband. While Amazon said its first production satellites will launch in the first half of 2024, it told the FCC in 2020 that it plans to offer broadband after launching 578 satellites.
"We're preparing to launch our first two prototype satellites in early 2023, and we expect to provide service to the earliest Project Kuiper customers by the end of 2024," Amazon said today.
Amazon has Federal Communications Commission approval to launch 3,236 satellites. In April 2022, Amazon announced deals for 83 launches over five years using Arianespace, the Jeff Bezos-owned Blue Origin, and United Launch Alliance. Amazon plans satellite orbits between 590 and 630 kilometers.
Starlink has about 3,750 satellites in orbit, but speeds have slowed as more users sign up. In much of the US, Starlink residential service is subject to a waiting list despite SpaceX reporting to the FCC that it is available virtually everywhere.
SpaceX recently launched its first batch of 21 second-generation satellites, saying they will provide four times as much capacity as earlier models. The FCC recently gave SpaceX approval to launch 7,500 of its 30,000 planned second-generation satellites. SpaceX also plans to test satellite-to-cellular service with T-Mobile this year.