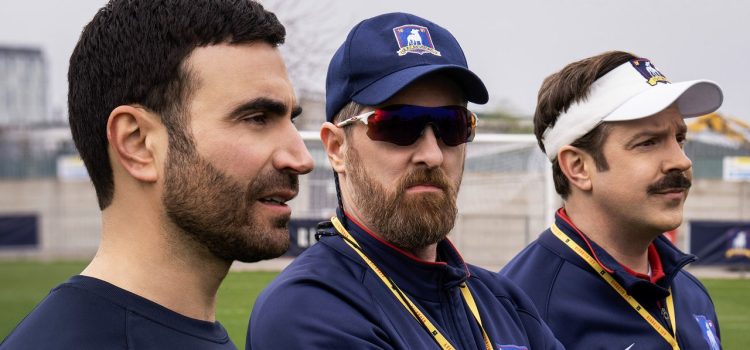 Slowly but surely Apple TV+ is finding its feet. The streaming service, which at launch we called "odd, angsty, and horny as hell," has...
Slowly but surely Apple TV+ is finding its feet. The streaming service, which at launch we called "odd, angsty, and horny as hell," has evolved into a diverse library of dramas, documentaries, and comedies. It's also fairly cheap compared to services like Netflix—and Apple often throws in three free months when you buy a new iPhone, iPad, Mac, or Apple TV.
Curious but don't know where to get started? Below are our picks for the best shows on the service. When you're done, head over to our guides to the best Netflix shows, Amazon Prime shows, and Disney+ shows, because you can never have too much television.
Ted Lasso
On paper, Ted Lasso sounds terrible. The inconceivable story of an American football coach who has never watched a game of soccer somehow landing himself a job as coach of a (fictional) Premier League club and trying to make up for his total lack of qualifications by being a nice guy. Sounds unwatchable, doesn't it? And yet Ted Lasso has captured the hearts and minds of viewers on both sides of the pond with its large-as-life cast and irresistibly wholesome messaging, hoovering up awards for fun in the process. With season 3 out now, there's plenty of good-natured humor for you to dive into.
Shrinking
Do you enjoy In Treatment but wish it was, you know, fun? Then Shrinking may be right for you. Created by Bill Lawrence and Brett Goldstein—of Ted Lasso fame—and Jason Segel, the show is about Jimmy (Segel), a therapist struggling to get over the death of his wife and reconnect with his daughter and patients. That may sound like a downer, and the show isn't without its harder moments, but it's buoyed by the fact that it's also a workplace comedy focusing on the therapy practice where Jimmy works alongside Harrison Ford's Paul and Jessica Williams' Gaby. Shrinking, ultimately, is about the things people do to cope, but it also features a dream team of a cast and one very memorable party scene featuring an (unrelated) vomit-soaked piano and a super-stoned Ford. 
Servant
Cinematically, M. Night Shyamalan can be a little hit-or-miss, but Servant, which the filmmaker executive produces, and occasionally directs, is stellar. It's about a Philadelphia couple—a chef and a news anchor—who lose a child only to have it mysteriously come back to life (maybe) with the arrival of their new nanny. (You really just need to watch the show for any of this to make sense.) Moody, freaky, and occasionally even funny, it'll suck you in. And now that it's on its fourth season, there's plenty to enjoy. 
The Essex Serpent
Claire Danes doing her best trembling-chin acting in period garb; Tom Hiddleston as a town vicar; rumors about a mysterious mythological serpent—is there anything not to love about this show? No, there's not. The Essex Serpent, based on the novel by Sarah Perry, follows a recent widow (Danes) as she heads to the countryside in Essex to investigate a "sea dragon." There, she meets a vicar, Will (Hiddleston), who is far more skeptical of the serpent's existence. Lush and inviting, it's the ideal period mystery.
Severance
Out of all the shows on this list, Severance may be the one that firmly established Apple TV+ as a streaming player with edgy prestige content. Adam Scott plays Mark, a man distraught by the death of his wife who opts to undergo Severance, a procedure that divides his memories of work from those of his life at home. He's quite happy with the setup until a former Lumon Industries coworker tracks him down when he's out-of-office, setting off a series of events that makes him question not only Severance but the work his company does. From there, it only gets more weird and bleak with each passing minute. Tense and heartbreaking, this show, the bulk of which was directed by Ben Stiller, will keep you guessing, and questioning, the whole way through.
Little America
Originally released when Donald Trump was still president of the United States, Little America was and remains a timely reminder of what actually makes America great. Each episode of this anthology series focuses on a different story of immigrants living in America. From an undocumented high school student who discovers a talent for squash to a "bra whisperer" in Brooklyn, every one of these 30-minute vignettes—all of them based on real people—is inspiring and important viewing.
Mythic Quest
An all-too-rare example of a video game TV show that really works, Mythic Quest is one of the best new workplace comedies of the last few years. Presented in perfectly bingeable half-hour episodes, the show follows a fictional game studio known for its World of Warcraft–like MMO, Mythic Quest, as the people who make it slalom through their many quirky relationships. The writing is excellent, consistently funny and emotionally impactful when you least expect it, and the show manages to confront real issues in the industry without sacrificing laughs.
Foundation
We called Foundation a "flawed masterpiece" in our review, which is still high praise considering the complexities of adapting a sprawling sci-fi classic for TV. Based on Isaac Asimov's book series of the same name, the dizzyingly ambitious Foundation stars Jared Harris as Hari Seldon, a math professor who, along with his loyal followers, is exiled for predicting the oncoming end of the galactic empire that rules over them. It looks incredible, and while the show can suffer under the weight of its enormous scope, this Game-of-Thrones-in-space wannabe is still one to check out.
The Morning Show
Every streaming service needs a flashy mainstream drama with Hollywood heavyweights to pull in viewers. Apple TV+ has The Morning Show. Stars Jennifer Aniston, Reese Witherspoon, and Steve Carell are all in top form as members of the onscreen team that makes up The Morning Show, a popular breakfast news program. The Morning Show doesn't waste any time getting going, straight away showing you co-anchor Mitch Kessler (Carell) being dismissed amid accusations of sexual misconduct. From then on, the show explores the ramifications of a #MeToo scandal, and while it doesn't always work, it's often thrilling viewing, and you can't accuse anyone involved of not giving their all to the weighty subject matter.
Dickinson
Hailee Steinfeld is a riotous young Emily Dickinson in this half-hour show from creator Alena Smith. It was part of the original Apple TV+ lineup and quickly distinguished itself thanks to its off-kilter vision of 19th century Amherst, Massachusetts. The first season is a set of sharp, surreal vignettes, inspired by Dickinson's work and tracing the imagined life of the young poet, who is rebelling against her father, the town's societal rules, and just about everything else. The second and third seasons go deeper—examining not only the poet's life, but also the roles race, gender, sexuality, and class played in the early days of America. If you're a Dickinson stan, love a bit of smart queer dramedy, or just have a penchant for a modern soundtrack in a Civil War–era show, you'll dig this.
For All Mankind
A solid slice of alternate history, For All Mankind starts with a very smart premise: What if the US was edged out in putting a man on the moon? How would the space-race rivalry between the Americans and the Soviets have played out? It's mostly a slick, stylish, NASA-heavy period drama, but, as this is from the brain of Ronald D. Moore, there are a few standout moments and episodes with attention shared around the large ensemble cast. Easily the best sci-fi show you're not watching.