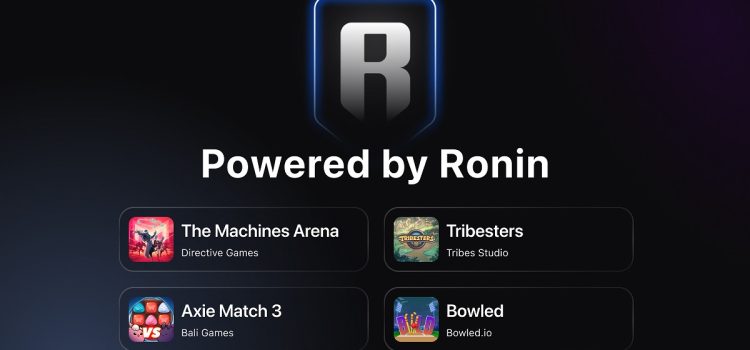 Connect with top gaming leaders in Los Angeles at GamesBeat Summit 2023 this May 22-23. Register here. Sky Mavis has generated more than $1.3...
Connect with top gaming leaders in Los Angeles at GamesBeat Summit 2023 this May 22-23. Register here.
---
Sky Mavis has generated more than $1.3 billion in revenue from its blockchain game Axie Infinity. And now it is preparing to launch four new Web3 games on its Ronin network.
The company said it has upgraded the Ronin blockchain to Delegated Proof of Stake (DPoS), providing better security and efficiency in its quest to decentralize Ronin. Ronin is an Ethereum virtual machine (EVM) blockchain with trading volume of $4.2 billion.
And Sky Mavis, based in Singapore and Vietnam, has unveiled the genesis batch of game studios that will be building and launching games on Ronin: Directive Games, Tribes, Bali Games, and Bowled.io.
At the Game Developers Conference, I met with the leaders of Sky Mavis, including Kathleen Osgood, director of business development at Sky Mavis; Aleksander Leonard Larsen, cofounder and COO; Jeffrey Zirlin, cofounder and head of growth; and Trung Nguyen, CEO and cofounder.
Event
GamesBeat Summit 2023
Join the GamesBeat community in Los Angeles this May 22-23. You'll hear from the brightest minds within the gaming industry to share their updates on the latest developments.
Larsen said that the Ronin network has always been a part of Sky Mavis' strategy to make sure it can provide the best service to the Axie Infinity community. And now the next step is opening it up to other developers so they can share in the benefits.
"We spent a long time looking for these five games, which are a good fit for our holistic strategy," Larsen said in our interview.
Larsen said that Sky Mavis is making direct equity investments into some of the companies for a long-term play. And he noted that he met one of the developers at our GamesBeat Summit Next event last October.
Delegated Proof of Stake
As for the delegated proof of stake, the original blockchains like Bitcoin consume a lot of energy, requiring lots of computing resources to independently verify what is stored on the digital ledger of the blockchain. This made the networks secure but extremely wasteful.
With proof of stake, a blockchain network can incentivize users to confirm network data and ensure security through a process of collateral staking. With delegated proof of stake, users of the network vote and elect delegates to validate the next block in a process that is more democratic.
With the DPoS upgrade, anyone with a minimum of 250,000 RON (the token for the Ronin network) can become a validator and take part in block production. That is, it can be a partner that validates transactions on the blockchain. And the energy used is far less than with early blockchain protocols.
"We have had some challenges with the chain, but getting to this point is really great. How we run the network is starting to become more decentralized," said Larsen, in an interview with GamesBeat. "The purpose of staking is basically that the community can now show support to their favorite validator and, at the same time, help secure the network. So it's becoming more decentralized and we're also opening it up."
>>Follow VentureBeat's ongoing GDC 2023 coverage<<
At the same time, any RON holder can stake their tokens and participate in validator selection. The selected validators then share a part of their rewards with the delegators—the users who staked their tokens. RON staking opens today, with rewards starting on April 12.
Overall, security is still extremely important. Last year, when an engineer failed to close a workaround that circumvented blockchain security, the Ronin network got hacked and thieves stole $620 million from Sky Mavis and its users. The company had to raise new funding and guarantee funds for users.
"The Ronin hack itself, obviously, is a painful moment in our history. But I also think it's a valuable experience for us. We made so many trade-offs to actually be able to go to the market with Axie that, at the end of the day, it came back to bite us," Larsen said. "Since that time, not only did we refund all the users from our own balance sheet, so everyone was made home — but we are also moving into a much more secure environment. Even if someone gets compromised, that still wouldn't lead to the same level of disaster that it did before."
He also said the industry is young and such incidents are likely to happen to many chains, and they have been happening.
"I really think that having that experience and being battle tested and surviving that, for us, should be a benefit to any other developer that is working with us. They know that we are taking this pretty seriously because we can survive this," he said. "That's why we're focusing so much on basic security. I'm very proud of how we handled that situation and actually are recovering from it."
Down from the peak
Axie Infinity took off like a rocket and came down like one too.
Axie Infinity has about 200,000 daily active users, down from a peak of around 2.7 million during the height of the NFT craze in 2021. In the midst of the pandemic, in communities in the Philippines with 40% unemployment, Axie Infinity took off, helping people make three times the minimum wage in a month. It created a lot of jobs for people and kept spreading. About 20% of the players were unbanked. Then it crashed, as the cost for creating new players rose and players had a hard time sustaining the gameplay. Eventually, there weren't enough new players to replace the departing ones, and the prices fell for NFTs.
But Larsen notes that the game is resilient, as are the players, who have lived through multiple massive corrections over the years.
"As we are building and building and building the audience, the expectation goes up to the peak where there are 2.7 million people who expect the game should be totally amazing. And then the reality kicks in, and it goes back down again," Larsen said. "What I would say is that the difference between the quality of the Axie product versus the expectation for the players is actually better. So I would say that we're pretty suited for another upswing, but that also historically that upswing is dependent on not only what we do, but also the general market. So when we look at crypto as a whole, what keeps happening is that it also follows the cyclical trends, where people think that this is going to change the world. For us, we go back to the original vision of how we create more utility for the Axies."
Players that churn out of the game are the ones that expect a short-term financial gain from selling off their characters. But other players are long-term missionaries who love the game and the community, Zirlin said.
"They love true ownership of their assets. That's definitely one of the core benefits, but they're in it for a lot of the benefit and utility outside of just short-term financial speculation," Zirlin said. "It's a battle for attention. A battle for community members. And a battle for developers. And it has a cyclical element."
Now that prices are down for Axies, Zirlin said, "We're starting to see many of the community members that were around in 2018, and 2019, becoming mentors, and really consoling and teaching the other community members that we've been through this before, as an industry as a community."
Onward from Axie Infinity
Sky Mavis created a genre-defining game in Axie Infinity, which set off a craze around non-fungible tokens (NFTs) in 2021. It had to build the infrastructure that enabled it to scale to millions of users, and that infrastructure became Ronin. To date, more than four million people have downloaded Ronin wallets for trading cryptocurrency.
Now, the company is rolling out its technology to create a gaming ecosystem built on Ronin that shares a big user base, community-owned protocols, applications, and deep asset liquidity. Selected partner studios have the opportunity to access Axie intellectual property for their titles or build entirely new games with distinct IPs on top of Ronin.
Osgood said that over the last year, Sky Mavis has been vetting hundreds of game studios to find the best partners to bring into the ecosystem.
"It's also noteworthy that we've been setting up our operating platform to really structure how we partner with these teams on a deep level, which I think differentiates us from some of the other ecosystems out there," Osgood said. "We want to leverage everything that we've created for Axie Infinity. We want our game studios to leverage that."
The company has set up its Mavis Hub, which is a distribution center for other games. It's kind of like the Steam of Web3. Sky Mavis also has its Ronin bridge to other networks, which was built to scale Axie Infinity. The company has a department set up to work with game studios on leveraging Sky Mavis' tools. And it has its publishing division to work with developers on their marketing and community engagement plans.
Sky Mavis has about 2,500 creators, all dying for more games on Ronin to create content and get the word out, Osgood said.
"We have a ton of social capital across all of our accounts. And what we'll really be doing is helping get these games distributed to a broad audience in Web3," Osgood said. "So when we've been looking at the games that we want to onboard, we have been taking a more strategic approach. We can generate Web3 users by leveraging our assets and building community."
Zirlin added, "One of the things that we're starting to see is that Ronin has a community, a growth stack and all the tools and platforms that you would need to be able to grow your game to interact with the community."
The new games
Last year, when Sky Mavis added new Axie Infinity games, the company had more than 1,000 applications and it picked about 15 teams to make games. Much of the content was fan-generated games.
But now the first game studios to build on Ronin include:
Directive Games — A gaming studio founded in 2014 by veteran game developers from companies such as CCP Games, DICE, LucasArts, Square Enix, Ubisoft, and Tencent. Directive Games aims to create large, immersive, competitive multiplayer games that prioritize player agency. To achieve this, Directive Games has developed a powerful tech stack that includes a proprietary backend for developing large persisted worlds, a generative AI-tool chain, and proceduralism.
Today Directive Games is officially announcing the closed beta launch of The Machines Arena on the Epic Games Store to Ronin users. Web3 features will be rolled out in the coming months. In this fast-paced hero shooter, players clash in intense battles delivered from a top-down perspective. Directive's technologically advanced gameplay will offer the Axie community access to a new, exciting universe of play.
"This is interesting because it'll start off in the Epic Games Store so players will be able to engage with it immediately at the start," Osgood said.
At first, the game won't have Web3 elements. But Sky Mavis will with the devs and the community members and the players to determine the best places to put these Web3 elements into the game, she said.
"We're going to start off with that Web2 approach and then gradually bringing in Web3 elements," Osgood said.
Admittedly, that's a roundabout way to bring out a blockchain game, but it's a way to stay friendly with the app stores, which often block most Web3 features from being deployed in a game on the official app stores. But it's a necessary step on the way to reaching a mass audience.
Tribes Studio — Created by a former executive at King and Scopely, who oversaw player experience and community at titles such as Candy Crush Saga, Walking Dead, and Star Trek. Tribes Studio will launch community-led gaming, building titles on their IP Tribesters.
Their main experience will be Tribesters: Island of Solas, an open-world MMO. Prior to launching the MMO, Tribes will launch a community engagement platform that enables the community to help build their games and be rewarded for it. This tech will be available as a mechanism to build community in a structured way to other games within the Ronin ecosystem. Tribes Studio shares Axie Infinity's community-led approach and will enable gaming experiences for the community.
The dev team is building a social MMO and a community engagement platform that allows the community to participate in areas of game decisions, Osgood said.
"It's leveraging the community's unique skills and expertise to help build the game and also be rewarded for it. So the community will be able to participate in ways such as helping build the lore behind an NPC or determining the art style for one of the parks," Osgood said.
Larsen added, "We're actually they're actually building a system so that we can now actually try to tap into that wisdom in the community."
Bali Games — Built by makers of the Korean smash-hit Anipang series, which achieved $1.8 billion gross revenue and over 130 million downloads, Bali Games is leveraging its extensive mobile game experience to create Axie-inspired puzzle games. Bali Games has a track record in expanding major IP including Disney Pop, Snoopy Puzzle and BT21. This collaboration will grow the community in Korea through the expansion of Axie IP and lore through Axie games.
"I'm very excited about working with them. It's a studio that's a spin-off of the guys behind the a big card game. They're highly focused on making mobile games," said Larsen. "They're doing two things. They are giving more utility to the Axie game characters and they will create their own native IP. Our strategy is very curated for now. We want to show them as we go to market with community building so that they don't have to make the same mistakes that we've made."
Osgood added, "This is a mechanism to also expand the Axie lore. So internally, we are expanding the Axie lore to allow other studios to build with our guidelines and build this new game."
Bowled.io — This company runs a sports-based social gaming platform that enables fans to discover and play games, own in-game sports assets, and interact with their favorite sports influencers. Beginning with one of the most popular sports in the world, cricket, Bowled.io allows participants to face off against players worldwide, cultivating their team of all-star cricket heroes and leading them to glory in a suite of engaging game modes.
The game is not a Web3 game at the outset, but the team is adding Web3 elements by working with Sky Mavis.
"It goes back to this approach of bringing users into the ecosystem and then start to reward them and incentivize them to set up a Web3 wallet and earn the rewards and then possibly buy in-app purchases to earn NFTs to further their game," Osgood said.
Eventually, other popular sports like basketball and soccer will also be integrated. The Bowled.io partnership will enable Sky Mavis to tap into a new highly engaged community of India-based sports fans and onboard a different demographic within an emerging market into the Ronin ecosystem.
"India is an emerging market that we want to tap into," Osgood said. "They have one of the youngest populations and they are open and exploring gaming. We think that although this is a unique play. Cricket is actually the second-largest sport in the entire world. But India is a market that we haven't necessarily tapped into in a meaningful capacity."
Larsen said he hopes the dev team can create a full sports game hub over time.
A long road ahead
"Sky Mavis' is building on the success of Axie Infinity to create an infinite ecosystem that introduces the benefits of Web3 through immersive gaming experiences," said Nguyen, CEO of Sky Mavis. "With the upgrade to DPoS, we are ready to open up our infrastructure and technology to the wider Web3 world. We believe that this is the path towards creating gaming that's community-centric, more rewarding, and above all, more fun. I'm excited to welcome Directive Games, Bali Games, Tribes, and Bowled.io to Ronin."
As for working with big game studios, Nguyen said that there are companies with existing intellectual property and Web2 games that are thinking about how to expand and build on top of the Ronin network.
"We have been discussing that with them, and they're looking into their options."
And as for Sky Mavis' own first-party games, Zirlin said the company has been thinking a lot about the core experience of feeding and raising a Tamagotchi-like character, which was foundational to the idea when the company came up with its NFT-based game in the first place more than five years ago.
"It's not just about one next big game that will get us to the next step as an ecosystem," he said. "I think it's about how do we have an interconnected ecosystem where you're using your assets in different experiences, and then storing that experience in progression through your NFT assets."
Zirlin believes that, over time, we will all become attached to our digital collectibles, our NFTs. And while some may never hold value, we'll still have an emotional attachment to them and a story to tell about how we acquired them. Eventually, he thinks that will be a massive audience.
"I think Mario would never have penetrated as many households if there wasn't Donkey Kong, Zelda, or other IPs in the Nintendo universe. Mario would never have penetrated the cultural consciousness of the entire world," Larsen said. "The difference for us is we feel like the community is with us on this journey. Like the community, we own the assets."
GamesBeat's creed when covering the game industry is "where passion meets business." What does this mean? We want to tell you how the news matters to you — not just as a decision-maker at a game studio, but also as a fan of games. Whether you read our articles, listen to our podcasts, or watch our videos, GamesBeat will help you learn about the industry and enjoy engaging with it. Discover our Briefings.