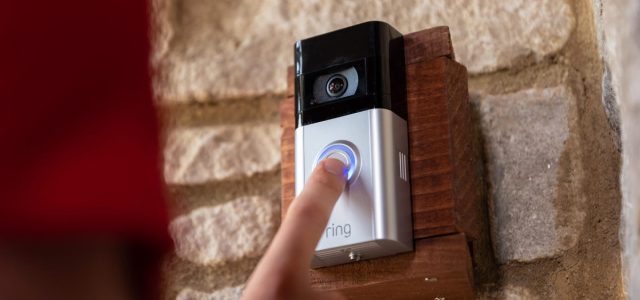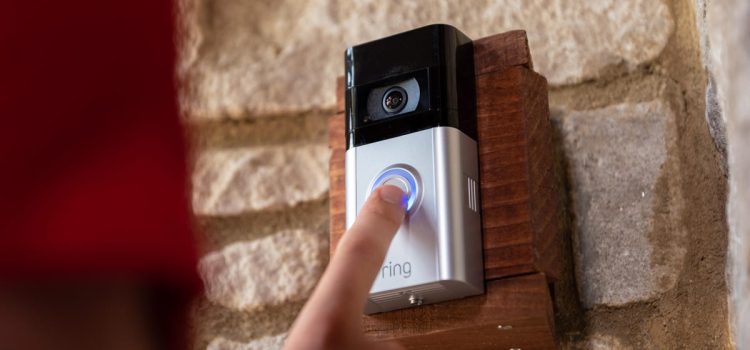 $70 at Best Buy Ring Video Doorbell (2020) Best budget-friendly Ring video doorbell Video doorbells are the perfect way to improve your home security...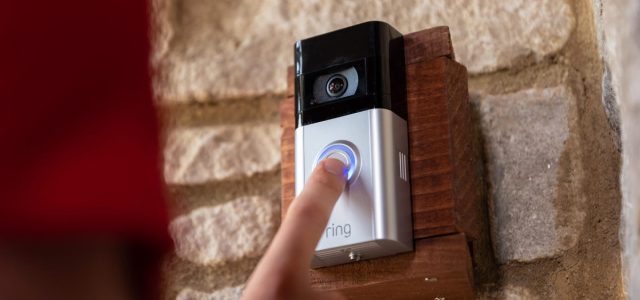 Video doorbells are the perfect way to improve your home security by allowing you to see exactly who's at your door. With the ability to record, they become even more useful. The best Ring doorbells also let you interact with whoever is at the door, even when you're not home. 
If you're considering upgrading your home security with a video doorbell, Ring has probably crossed your mind. Amazon's home security brand has become increasingly popular and has a reputation as one of the best video doorbells on the market. While Google Nest buzzers and Arlo doorbell cams are great alternatives, many people looking to buy a video doorbell still opt for the industry's biggest brand.
Ring has an extensive selection of video doorbells that meet the needs of a wide variety of homes. Are you looking for a wireless or hardwired option? Do you want to prioritize buying something affordable, or do you want the latest devices with all of the bells and whistles? Ring has a complicated history with privacy and police partnerships, so you might also be wondering if some devices are better at protecting your privacy than others? Yes, shopping for video doorbells can give rise to a lot of questions.
We've got all the answers for you. Let's take a look at Ring's most popular recent devices — the Ring 4, the Doorbell Pro 2, the Video Doorbell (2020) and the Ring Video Doorbell (Wired) — and help you break down the best Ring doorbell options.
Best Ring doorbells
Setup Moveable, outdoor/indoorResolution 1080pStorage Cloud storageGoogle/Alexa Compatibility Amazon AlexaField of View 160 degrees
In 2021, Ring launched its latest core video doorbell, the Ring 4. The doorbell camera lists for just over $220, offers 1080p resolution, a 160-degree field of view and two-way talk, along with plenty of other goodies like full-color preroll (which captures a few seconds before motion is detected, for added context). The Ring 4 can be used wirelessly with its battery, or it can be wired — though this won't let it use your existing doorbell chime, sadly. For that, you'll have to either get a separate plug-in chime, or use your Echo devices as a stand-in.
A few downsides: The Ring 4 has a wide-angle aspect ratio, so you can see things easily side-to-side, but when a visitor approaches the door, their head and feet (or a package, if they leave one) can easily be cut out of frame. Another downside: As of right now, the Ring 4 still can't send you package alerts like the Pro 2 or the Ring (2020). This is pretty disappointing considering every major competitor can send you package alerts at this point — and considering how important video doorbells can be at protecting packages.
Setup Hardwired, outdoor/indoorResolution 1536 x 1536 (2K)Storage Cloud storageGoogle/Alexa Compatibility Amazon AlexaField of View 150 degrees
Ring's highest-end video doorbell, the Video Doorbell Pro 2, includes some pretty advanced features for its $260 price tag. You get a 1:1 aspect ratio, so you can see people head-to-toe, super sharp better-than-HD resolution and even radar, which lets you track visitors' or delivery persons' route up to your door. In short, this doorbell camera has all the extras you could possibly want.
What's more, the Pro 2 takes full advantage of being wired; it can use end-to-end video encryption (unlike the other two options on this list), send package alerts (unlike the Ring 4) and use your existing doorbell chime. I liked the Ring Pro 2 a lot when I tested it out in 2021, though I questioned how many people really needed features like radar tracking. That said, if you're interested in those features and willing to part ways with $250, the Pro 2 is a solid gadget.
Setup Moveable, outdoor/indoorResolution 1080pStorage Cloud storageGoogle/Alexa Compatibility Amazon AlexaField of View 155 degrees
Ring's $100 video doorbell is its most basic offering — almost identical in hardware to its $60 Ring Video Doorbell Wired, other than its included battery. If you're looking for a starter smart buzzer, this doorbell camera is a great home security option — and it even works with Ring's latest package alerts feature.
While the Video Doorbell (2020) is great, it won't win awards for smartest features. It doesn't have preroll like the Ring 4, let alone radar or end-to-end encryption like the Pro 2.
The big downside here is the need to remove the whole doorbell in order to charge the battery.
How to choose Ring video doorbells
When you're looking for a video doorbell, the most important question isn't "Which one is best?" so much as "Which one is best for me?" All of Ring's video doorbells perform well — and all of them come from the same company, with the same troubling history of facilitating video sharing with police. Not all of them will be ideal for you.
If you're curious about trying out a video doorbell for the first time, mostly for basic features like live monitoring, two-way talk and so on, a starter device like the Ring Video Doorbell (the 2020 model, or its Wired version) should do what you need.
On the other hand, if you really want to see what a smart video doorbell can accomplish in 2023, the Video Doorbell Pro 2 is pretty unbeatable in terms of smart doorbell features — and especially with that option to use end-to-end video encryption.
That leaves the Video Doorbell 4 as the middle child, with a bit for both kinds of people, but not necessarily the best value or features around.
If you're interested in video doorbells, don't forget to take a look at the video doorbell competition, too.
Ring camera doorbell compared
| Ring Doorbell | Price | Resolution | Field of view | Aspect ratio | Setup | Extra features | Review Score |
| --- | --- | --- | --- | --- | --- | --- | --- |
| Ring Video Doorbell 4 | $220 | 1080p | 160-degree | 16:9 | Removable, Rechargeable Battery Pack or Hardwired | Two-way talk, motion detection, full-color preroll, integration with Alexa | 7.4 |
| Ring Video Doorbell Pro 2 | $250 | 1536p | 150-degree head-to-toe view | 1:1 | Removable, Rechargeable Battery Pack or Hardwired | Radar tracking, bird's-eye-view, push alerts, integration with Alexa | 7.5 |
| Ring Video Doorbell (2020) | $100 | 1080p | 155-degree horizontal, 90-degree vertical | — | Built-In, Rechargeable Battery or Hardwired | Night vision, HD video, two-way talk, motion detection, package alerts, integration with Alexa | 7.2 |
How we test Ring video doorbells
Testing to determine the best of the best in video doorbells is similar to how we test any other home security camera. For this article, I started by downloading the Ring app. I recommend starting with the app rather than sifting through the tutorial booklets that ship with the hardware, because a good app includes detailed steps on the installation process, as well as how to connect the doorbell to your Wi-Fi network. The app will also be where you can check your notifications, alerts and settings, making it your one-stop shop for all things video doorbell-related. 
After installing the video doorbells based on the manufacturer's specifications, it was time to test the specs. Each video doorbell, despite all being Ring products, has slightly different features, so I took the time to test each unique feature to determine which was best. As soon as the Ring video doorbells were connected and I could view the live video feed, I checked their settings. I enabled features like motion detection, package alerts and bird's-eye-view to get a sense of how well each feature performed. 
Watch this: Ring 4 or Nest Doorbell Battery? Find the better fit for your porch
After hours of testing, I gave the highest rating (7.5) to the Ring Video Doorbell Pro 2. While it's not the best value on the market, the advanced specs — a super-wide field of view, a 1:1 aspect ratio, 1536p resolution and all the basics you'd want your smart buzzer to have — make it a great choice for a high-end video doorbell.
Though rated lower than the Pro 2 at a 7.4, the Ring Video Doorbell 4 is my recommendation for best standard Ring doorbell. If you're looking for a doorbell that's a fair value and packed with nifty features, but just doesn't send package alerts, then this is the best choice.
Finally, we gave the Ring Video Doorbell (2020) our lowest score (7.2) because it's certainly an improvement over the original Ring Video Doorbell, but the built-in battery that needs to be removed to charge is a bit of a hassle. While it's not our very favorite, it's a decent buzzer with solid features at a fair value. 
Ring camera doorbell FAQs
How long does a Ring doorbell battery last?
If your Ring doorbell isn't hardwired, the battery charge will typically last between six and 12 months, depending on the frequency of use and motion activations. You will receive an alert via the Ring app when the battery is getting low.
When charging your Ring doorbell's battery, be sure to let it sit until fully charged, if possible, as doing so can help prolong the life of the battery.
Is Ring a one-time purchase?
A monthly subscription is not required to use your Ring device, but there are three protection plans available if you'd like additional video storage and features. 
Ring Protect Basic, which starts at $3 per month or $30 for a year, comes with video history for 60 days on one device plus additional video sharing and notification features. The next Ring subscription tier, Protect Plus, offers essentially the same features as Basic, but on an unlimited number of devices (and an extended warranty on them) for $10 per month or $100 for the year. 
If you want to maximize your Ring doorbell's potential, the Protect Pro service is available for $20 per month or a yearly price of $200. The subscription buys you a number of added security features, including 24/7 professional monitoring, alarm cellular backup and 3GB of backup data to keep your Ring devices online — but you can only take advantage of many of its best features with the Ring Alarm Pro DIY home security system.
How are Ring doorbells powered?
Most Ring doorbells are powered by a rechargeable battery or have a battery backup, so losing power to your home shouldn't disrupt power to your device. Still, a power outage may affect your Ring device if your router loses power and the Wi-Fi connection is lost.
More home security recommendations