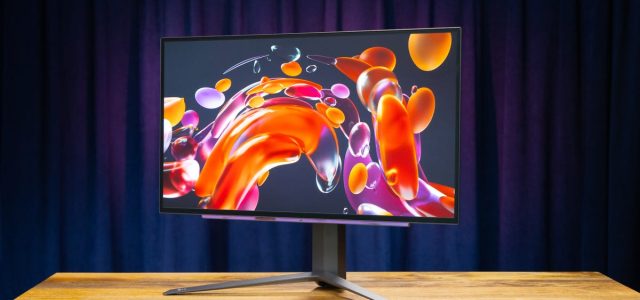 LG's UltraGear gaming monitors are some of the most popular models you can buy, so the $1,000, 240Hz 27-inch UltraGear 27GR95QE-B OLED HDR model...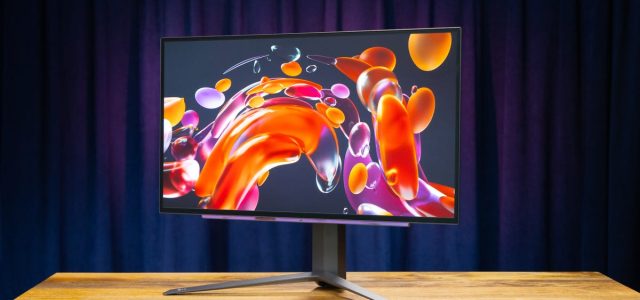 LG's UltraGear gaming monitors are some of the most popular models you can buy, so the $1,000, 240Hz 27-inch UltraGear 27GR95QE-B OLED HDR model sounded like one of the most interesting monitors to launch at CES this year. And it's certainly interesting. OLED screens have the highest contrast you can find in a display thanks to their true blacks, and their naturally wide color gamut makes them excellent for TV screens. 
But because monitors are used for so many different types of tasks, OLED's strengths can occasionally become weaknesses and some of the technology's inherent weaknesses, like brightness, need to be finessed. LG succeeds at gaming, for the most part, but doesn't entirely succeed at all the other things the monitor needs to do when you're not playing. There are some things that competing technologies like Quantum Dot OLED, found in monitors such as the Alienware 34 QD-OLED models, handle a bit better.
The UltraGear OLED 27 has a curved 45-inch sibling, the $1,700 45GR95QE-B. It has similar specs to the 27-inch model, with some similar complaints, but its low resolution for its size (3,440×1,440 pixels) means it's not great for a lot of general uses despite its productivity-friendly dimensions.
Like
Well constructed with good physical layout
A ton of features
Don't Like
Some people don't like the antiglare screen
Can only access all the settings with the remote control
Brightness performance issues
Design and features
The monitor's physical design hits most of my checklist items for a "yay!" Easy to access ports: check. Easily maneuverable cable management: check. Solid build quality: check. A stand that allows the screen to pivot, swivel and adjust the height: check. Its only illumination is stripes wrapping around the electronics section the screen is mounted on, which may be too subtle for some people, but I like it. Plus, it looks like a gaming monitor without looking like every other gaming monitor.
But I hate that you can only access the full set of menu options via the remote. There are a few (like inputs) that you can get to using the hard-to-manipulate single joystick on the monitor and a few more that you can get to using LG's OnScreen Control software, but a lot of the nitty gritty stuff — gamma and white balance choices, for example — requires the remote. And being able to maintain a slim profile with the skinny OLED screen means it's got a huge AC adapter brick.
LG UltraGear OLED 27GR95QE-B
| | |
| --- | --- |
| Price | $1,000 |
| Size (diagonal) | 26.5 in (67cm) |
| Panel and backlight | OLED |
| Flat or curved | Flat |
| Resolution, pixel density | 2,560×1,440 pixels, 111ppi |
| Aspect ratio | 16:9 |
| Maximum gamut | 98.5% P3 |
| Brightness (nits, peak/typical) | 1,000 (HDR)/200 (SDR) |
| HDR | HDR10 |
| Adaptive sync | FreeSync Premium and G-Sync Compatible |
| Max vertical refresh rate | 240Hz (DisplayPort and HDMI) |
| Gray/gray response time (milliseconds) | 0.03ms |
| Connections | 2x HDMI 2.1, 1x DisplayPort 1.4, 2x USB-A (plus USB 3.0 upstream) |
| Audio | 3.5mm, SPDIF out; DTS:X support |
| VESA mountable | Yes, 100×100 mm |
| Panel warranty | 2 years parts and labor |
| Release date | January 2023 |
It has an extensive feature set as well. That includes all the basics for gaming, plus a full-range slider for the Black Stabilizer (a necessity for OLED), LG's Dynamic Action Sync mode, which reduces latency between the system and the screen, and HDMI 2.1 for use with variable refresh-rate supporting Xbox Series X and S, and PS5. 
But it's got a ton of color and image-adjustment options that you rarely see in a gaming monitor, like 18 steps of manual white balance. The LG Calibration Studio is a full-featured profiling tool, complete with recalibration reminders, a host of predefined target spaces (including CIE RGB, Apple RGB, monochrome and a fully user-definable one) and the ability to save two of the custom profiles as hardware presets.
The calibration software can be a bit glitchy, but it's generally well designed. I'm a big fan of being able to set all the options on a single screen, and it's pretty straightforward to understand and use. There's one big thing I miss, though, and that's the choice of calibrating for a full screen (as with most calibration software) rather than just within a 10% window. In the case of the LG, it's critically important.
Performance
Basically, in SDR the screen can hit around 200 nits for any screen coverage except full screen. At that point, it seems like it drops to a maximum of around 150 nits. That's why it seems so dim for most general use — because most of us work on full white screens. The perception of dimness isn't helped by the excellent antiglare treatment, and a more matte finish makes it seem like it's lower contrast as well, despite OLED's effectively infinite contrast. People have complained that they wish the screen was more like the typical glossy TV OLED, which tends to look brighter with more saturated colors, but, well, I loathe glossy screens for the same reasons. I'm used to swimming upstream in life.
But it also screws up calibration, because LG's software (and presumably its factory) calibrates over an area that has different brightness characteristics than full screen, which screws up the gamma calculations. You may not have any problems with gamma oddities and a lot of profile definitions (like sRGB) are based around low peak brightness, partly because they were defined for a time when monitors tended to peak at 200 or 250 nits. However if you're, say, doing illustrations on a paper white background, it can mess things up and certainly makes color unpredictable.
SDR Color measurements
| Preset | Gamut (% coverage) | White point | Gamma | Peak brightness | Accuracy (DE2K average/max) |
| --- | --- | --- | --- | --- | --- |
| Gamer 1 (default) | 97% P3 | 7,950K | 2.2 | 205 | 5.3/18.4 |
| Gamer 1 (with manual white balance setting C1) | 97% P3 | 6,450K | 2.2 | 188 | 1.9/3.58 |
| Gamer 2 | n/a | 6,900K | 1.2 | 206 | n/a |
| FPS | n/a | 6,800K | 0.97 | 163 | n/a |
| RTS | n/a | 6,500K | 0.83 | 139 | n/a |
| sRGB | 96% sRGB | 6,150K | 1.6 | 110 | 4.06/8.17 |
| Vivid | 97% P3 | 8,600K | 0.93 | 139 | 14.6/27.13 |
| Custom calibration: Adobe RGB (75% window) | 90% Adobe RGB | 6,400K | 2.2 | 197 | 1.8/4.6 |
| Custom calibration: Adobe RGB (full screen) | 90 % Adobe RGB | 6,400K | 1.2 | 170 (at 95% gray), 144 (white) | 5.7/12.1 |
That's illustrated by the two Adobe RGB calibrations in the chart: I calibrated the monitor using LG Studio, with its 10% window, then measured the results with fractional and full-screen targets in Calman 2023. You can always use a third-party calibration utility to massage it to work, but those profiles can't be saved as a monitor preset.
The brightness variability also results in odd results for the gaming presets which are further complicated by the Black Stabilizer settings. (OLED can render pure black, which is a case traditional gamma calculations was never meant to handle, so the ability to boost the brightness in shadow areas is essential for visibility.) 
The shape of the gamma curve doesn't really matter much for gaming; appropriate — rather than accurate — shadow detail, contrast, brightness and color matter a lot more (though game designers might disagree). DAS isn't a pixel refresh booster (OLED is plenty fast at 1ms or less) or motion blur compensation feature so it really doesn't affect brightness the way those can. And the 240Hz screen refresh is rock solid.
HDR mode measurements
| Preset | White point | Full screen brightness (nits) | 10% window brightness (nits) |
| --- | --- | --- | --- |
| Gamer 1 | 6,350K | 146 | 642 |
| Gamer 2 | 8,100K | 159 | 750 (peak 883 – 938 nits in 2% window) |
| FPS | 8,750K | 145 | 709 |
| RTS | 6,350K | 143 | 661 |
| Vivid | 10,000K | 142 | 663 |
HDR looks great, and unlike a lot of HDR monitors this one lets you adjust settings like brightness and the gaming presets have settings for HDR along with SDR. In HDR it hits the full rated 98.5% P3 gamut coverage. 
LG rates the display at a peak brightness of 800-1,000 nits for a 3% window, which it certainly hit. But it requires several seconds to ramp up to peak and can't sustain it for more than a few. In practice, you're more likely to see a maximum of about 700-750 nits consistently, which still looks great given the monitor's price. The full-screen brightness is still low, but you're far less likely to encounter situations where it matters. 
If you can get away with spending $1,000 on a monitor that you'll love for gaming but probably not so much for work, then the 27-inch LG UltraGear OLED will probably tickle your eyeballs. But if it needs to multitask while it takes up space on your desk, you may need to put a little more thought into the purchase.
Testing
All measurements are performed using Portrait Display's Calman 2023 software using a Calibrite ColorChecker Display Plus (formerly X-Rite i1Display Pro Plus) and a Murideo Six-G pattern generator for HDR testing where necessary, or the Client3 HDR patterns within Calman, where possible. How extensive our testing is depends on the capabilities of the monitor, the screen and backlight technology used, and the judgment of the reviewer. For a complete description of our testing procedures, see How CNET Tests Monitors.
The best laptops in every category