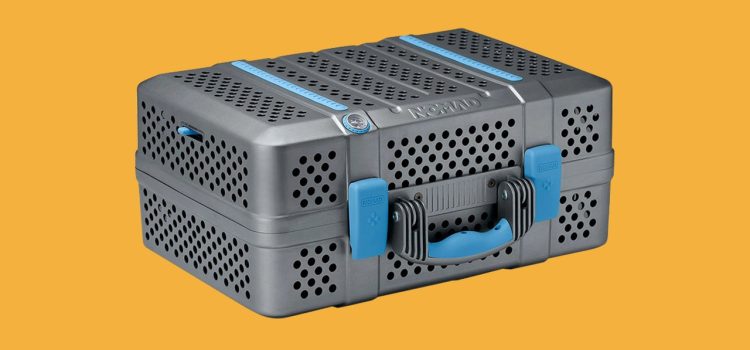 The Nomad portable grill is to grills what the Yeti is to coolers: better in every way, but expensive. That both companies hail from...
The Nomad portable grill is to grills what the Yeti is to coolers: better in every way, but expensive. That both companies hail from Texas is a coincidence. Probably.
The Nomad is a new take on what a portable grill should be, or even can be. It's refreshingly low-tech and compact, it cooks phenomenally well, and unlike many "portable" grills, it can genuinely go anywhere. It's as close to a perfect portable grill as anything I've tested.
Wandering Grill
I've tested a lot of portable grills over the years, and the Nomad is hands-down the best-built portable grill I've ever used.
From the perforated, anodized-aluminum shell to the cast-aluminum grill boxes inside, everything about the Nomad feels solid and well made. The heavy-duty handles and latches are strong. Even the grilling surface is held solidly in place with high-temperature-resistant magnets.
The design of the Nomad is different than most grills. It's essentially a suitcase, which means you can carry it with one hand. The solid construction doesn't make it light—it's 28 pounds with one grill grate, 31 pounds if you opt to buy a second—but it's not awkward and unwieldy like our current top-pick portable charcoal grill, Weber's Jumbo Joe ($89).
When collapsed in suitcase carrying position, the Nomad looks like a cross between something Jason Bourne would use as a carry-on and some kind of live animal cage. I told one person who asked about it that my kids had a pet wolverine. For a second, I think they believed me.
Once you get where you're going with your Nomad, you can set it up on any flat surface. Thanks to the engineering behind the grill, it never gets hot enough to harm wood, metal, stone, or sand. I would not put it on a plastic table, but it should work fine everywhere from your truck tailgate to your local park's picnic table. While flat on the ground is the most awkward way to cook on the Nomad, it also works.
The Nomad is also pleasingly low-tech. There are no Bluetooth temp sensors, apps, or anything else. This is grilling of the old school, relying on your skills and experience. The Nomad does have a built-in thermometer on the left side of the "top." but there is no digital anything here. Thankfully.
Outer Space
For typical high-temp grilling, the Nomad folds open, giving you two sides to grill on. The catch is that the grill for the second side is sold separately and will set you back another $130. If you get the extra grill grate, you'll have total of 425 square inches of cooking surface. Nomad claims this is enough for 30 burgers. I did not test the second grill grate, but cooking single-sided there was enough room for 12 burgers at about a quarter-pound each.
The other thing to note is that the grill surface is cambered, which means that if you get both grills, you'll need to flip one over before closing it up. Nomad also points out that you can cook with the grill surface flipped over, making it something like a veggie basket.