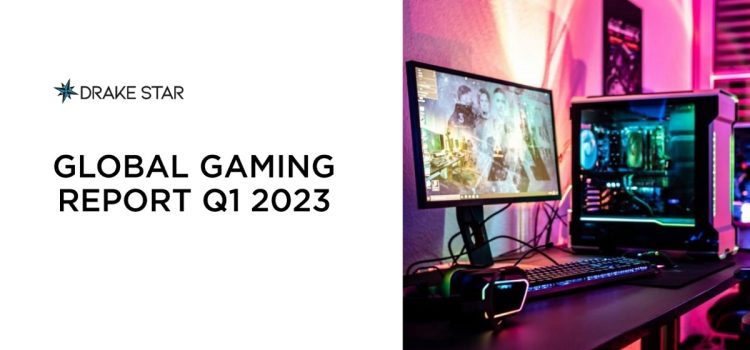 Connect with top gaming leaders in Los Angeles at GamesBeat Summit 2023 this May 22-23. Register here. Stock prices rose for publicly traded game...
Connect with top gaming leaders in Los Angeles at GamesBeat Summit 2023 this May 22-23. Register here.
---
Stock prices rose for publicly traded game companies in the first quarter, and could help revive a weak acquisition market, according to a report by Drake Star Partners. But the scale of that weakness became clear in Q1 as the total number of acquisitions fell 75% from 76 deals in Q4 to 43 in Q1.
Making sense of these numbers is one of the aims of GamesBeat Summit 2023, our game conference happening May 22-23 in person in Los Angeles and May 24 online. (You can get 40% off the ticket price with this code: GBSDEANNEWS).
There were some significant changes in the quarter. Blockchain gaming fell from roughly half of all deals in 2022 to just about 20%, said Michael Metzger, partner at Drake Star Partners, in an interview with GamesBeat. That reflects problems like the crash of cryptocurrency prices, a downturn in NFT prices, the weak economy, the lack of high-quality blockchain games, low audiences and scandals like the FTX debacle.
"We focused on what actually did go well and what didn't go well," Metzger said. "The public gaming stocks across the board increased their valuations significantly. Volume came down quite a bit from 76 in Q1 to 43 deals in Q1, and most of the deals were small and midsized. That's quite a drop from Q1 in 2022."
Event
GamesBeat Summit 2023
Join the GamesBeat community in Los Angeles this May 22-23. You'll hear from the brightest minds within the gaming industry to share their updates on the latest developments.
For all of last year, blockchain gaming was the most active segment (405 deals), followed by mobile (152) and platform / tools (131).
Public strength
Gaming public companies saw a strong recovery in Q1, the report said. The sector outperformed the broader market indices, with the Drake Star Gaming Index growing 12% in Q1 compared to 7% for the S&P 500. The Drake Star Gaming Index is an equal-weighted index of select top 25 gaming companies with market values above $1 billion. This index saw LTM P/E and EBITDA multiples (median) expanded by 21% and 12% respectively.
Drake Star expects this recovery in prices — while tech stocks and others are weak — to spur M&A activity in the second half of the year. That is because public companies will have more capital to make stock-based acquisitions and more deals tend to happen in an environment where prices are on the rise. A lot of those public game companies will invest in smaller game companies, helping the whole food chain.
And we've already seen two big deals in April with Savvy Gaming Group's $7.5 billion acquisition of Scopely and Sega's $776.2 million offer for Angry Birds maker Rovio.
But game acquisitions fell 75%
Q1 was relatively quiet with 43 announced game acquisition deals, down 75% from 76 deals in Q4 of 2022. While the majority of the deal values were undisclosed, several of the top buyers were active including Savvy / ESL (Vindex), NetEase (Skybox Labs) and Embracer (Captured Dimension and All Caps).
Private financings stayed steady with over 200 deals (212 deals last quarter), raising about $1.3 billion. Over 70% of the deals were early-stage financings.
The most active VCs list for Q1 was led by Bitkraft Ventures, followed by Andreessen Horowitz, Play Ventures and Griffin Gaming.
2023 outlook
Q2'23 has started on a great note with the aforementioned Savvy Gaming Group entering the mobile
gaming and publishing space with the acquisition of Los Angeles-based Scopely for $4.9 billion and SEGA announcing the acquisition of Rovio for $776.2 million.
Savvy Gaming has earmarked plans to deploy $38 billion in the gaming sector and Drake Star expects more large deals from them. There is also a good chance that the Microsoft / Activision deal will close in the coming months, Metzger said.
While Drake Star continues to see a steady flow of smaller to mid-sized M&A deals and several large deals, it anticipates M&A activity to strongly rebound in the second half of the year. The company also expects several listed gaming companies to be acquired by private equity firms this year.
Gaming funds
Gaming and blockchain VC funds raised over $13 billion in 2022. While this capital pool is available for deployment, investors continue to be cautious. The broader tech market has seen a collapse in the announcements of new funds as limited partners get more cautious in the downturn.
Drake Star expects a healthy number of early-stage financings and significantly fewer later-stage rounds. Hot investment segments will be tools, AI, virtual reality and augmented reality, Drake Star said.
Blockchain weakness
Investing in crypto game companies dropped rapidly, from 71 deals in Q4 to 39 in Q1. Now it's maybe 20% of all deals, compared to half last year. The burden is on these blockchain game makers to prove they can make hit games. A number of weaker crypto game companies aren't going to make it, Metzger said.
"There's a lot of money, but people are much more cautious," he said. "There is still money going into crypto, but the core gameplay needs to be attractive. A handful of really fun games could make crypto gaming increase again, but we really need to see some real successes."
Drake Star also saw an increase in investments in tools and platforms. AI deals also went up. Metzger noted that his firm does not make estimates for the size of game deals where the companies themselves do not disclose details. That represents the majority of deals in Q1.
The big picture
"We're just into Q2 and we already saw two very significant deals with Savvy and Sega," Metzger said. "There is going to be more money deployed. Savvy is looking at the large PC and console market for an anchor investment, and that might be another large deal that is probably going to happen this year."
Metzger expects a continuous flow of small and midsize deals as well.
Anecdotally, a lot of the parties at the Game Developers Conference were held by financial companies that wanted to invest in the game industry. GDC itself saw 28,000 attendees, up from 12,000 last year.
"There's a lot of money flowing into the space and I don't see it changing anytime soon," Metzger said. "A lot of private equity firms are circling around both private and listed companies. We expect several deals."
GamesBeat's creed when covering the game industry is "where passion meets business." What does this mean? We want to tell you how the news matters to you — not just as a decision-maker at a game studio, but also as a fan of games. Whether you read our articles, listen to our podcasts, or watch our videos, GamesBeat will help you learn about the industry and enjoy engaging with it. Discover our Briefings.