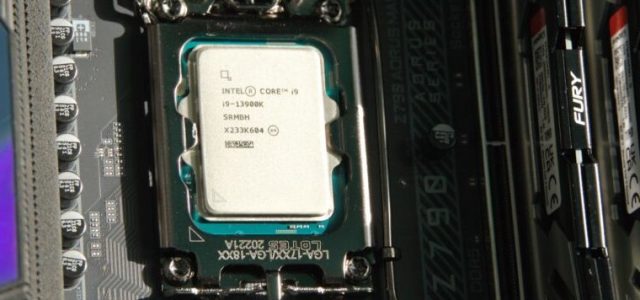 Enlarge / Intel's flagship desktop CPU, the Core i9-13900K. Andrew Cunningham Intel has released its financial results for the first quarter of 2023, and...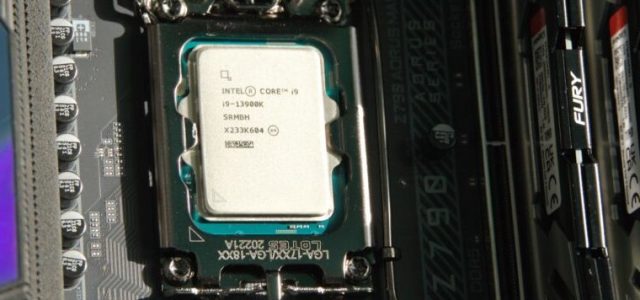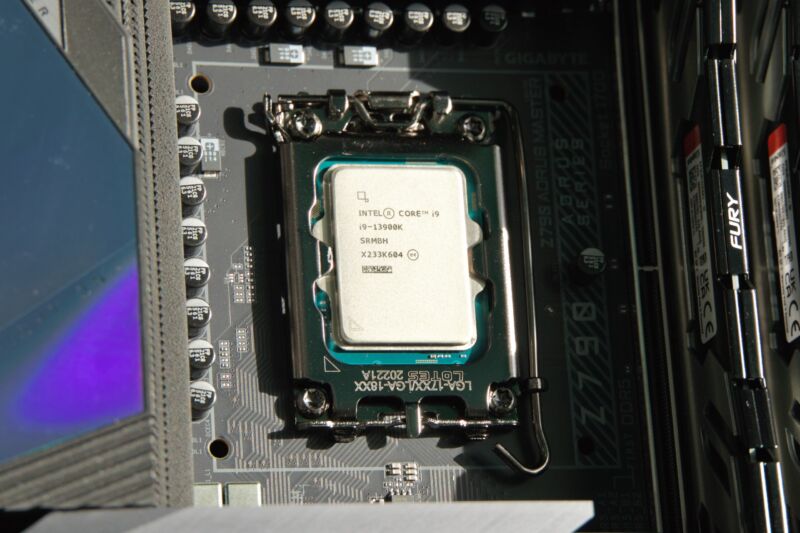 Intel has released its financial results for the first quarter of 2023, and the numbers aren't good: The company brought in $11.7 billion, a drop of 36 percent from Q1 of 2022. Because of the decline in revenue, Intel lost $2.8 billion, the biggest loss in the company's history. Intel's two biggest divisions—its client computing group that sells products made for end users and its data center group that sells server products—were down 38 and 39 percent, respectively.
If there's any kind of silver lining for Intel in the earnings report, it's that the company did slightly better than it expected to do this quarter; three months ago, Intel predicted revenues of 10.5 to 11.5 billion for Q1.
The company has instituted layoffs and has cut pay for managers and executives to help stem losses. It has also canceled some product lineups recently, like its Blockscale series of Bitcoin-mining ASICs.
Some of Intel's problems are affecting nearly every company that makes PCs or PC components; there has been a large overall decline in the consumer PC business as people continue to use equipment they bought during the pandemic. Analysts at IDC say that PC shipments are down nearly 30 percent from the same time last year. Samsung just posted a 95 percent decline in profits because of an oversupply of memory and storage chips. Companies like Nvidia, Micron, and even Apple have all posted declines in revenue in recent quarters.
But some of Intel's problems are unique. A big one is the company's years-delayed range of next-generation "Sapphire Rapids" server CPUs, which has given AMD its best opportunity in years to cut into the lucrative server CPU market with its EPYC chips. It's one reason why AMD's recent financial results have been a bit rosier—revenues from its data center division are helping to make up for lower consumer demand for its CPUs and GPUs.
Intel's Arc GPUs also arrived months later than planned and could only compete with Nvidia and AMD's less-profitable entry-level and midrange graphics cards (they also had lots of driver problems early on, though those have gradually improved). Intel originally had a separate graphics division (AXG) that reported its revenue separately from the other groups within Intel, but since AXG was dissolved and folded into the client computing and data center groups, we don't know how much money its GPU efforts have made (or lost).
Under CEO Pat Gelsinger, Intel is trying to turn things around by fixing these execution problems while also letting other companies make their chips using Intel's foundries. This so-called "IDM 2.0" strategy was announced over two years ago, but the long lead times for chip designing and manufacturing mean we're still waiting to see whether it will pay off. The company's foundry services revenue was down 24 percent year over year, but at $118 million, it's also just a tiny fraction of Intel's revenue; Gelsinger reiterated in Intel's press release that he sees it as a "$1 trillion market opportunity" in the long run.
"We are prioritizing the investments needed to advance our strategy and establish an internal foundry model, one of the most consequential steps we are taking to deliver on IDM 2.0," wrote Intel CFO David Zinsner.
The company expects its pain to continue next quarter. Intel projected revenues of between $11.5 and 12.5 billion for the Q2 of 2023, which would be another big drop from the $15.3 billion the company reported in Q2 of 2022 (which itself was already a 22 percent drop from Q2 of 2021).