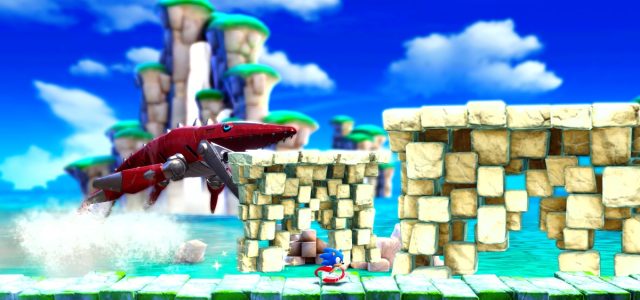 Missed the GamesBeat Summit excitement? Don't worry! Tune in now to catch all of the live and virtual sessions here. Sonic is returning to...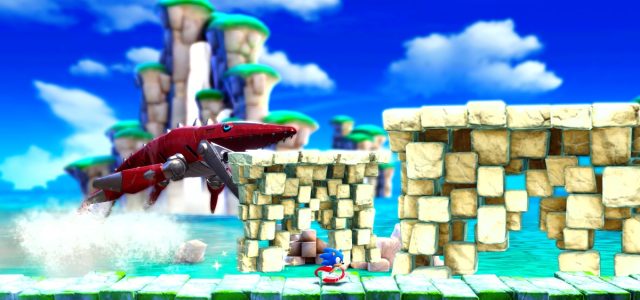 Missed the GamesBeat Summit excitement? Don't worry! Tune in now to catch all of the live and virtual sessions here.
---
Sonic is returning to his 2D roots … again. But Sega is giving him and his friends a few new ideas to play with.
I had a chance to play a couple of levels from Sonic Superstars and interview series head Takashi Iizuka during Summer Game Fest Play Days. This new entry in the series combines Sonic's classic 2D gameplay with a few new twists, including new powers that you unlock when you collect a Chaos Emerald. In the demo, I got an ability that turned me into a blob of water, which let me travel up a waterfall.
Superstars releases this fall for PlayStation 5, Xbox Series X/S, Switch, PlayStation 4, Xbox One and PC. I talked with Iizuka about Sonic Team's new approach to a 2D in my interview (done through a translator).
GamesBeat: We've seen a few different approaches to doing 2D Sonic games in recent years. What was the motivation for familiar-yet-new style?
Takashi Iizuka: Last year we released Sonic Frontiers, and that was really the big advancement, the new and innovative way that we took the modern series and made something new with it. In a similar way, the classic series, everyone has thought of it as retro. It's always been about the old, old, old.
I wanted to do something new with that classic series. Yes, it's the same 2D side-scrolling game format, but we wanted to challenge ourselves and say, hey, how can we take this to the next level? How can we make something new, interesting and innovative in that classic series format? That's Sonic Superstars.
GamesBeat: I played the Game Gear Sonic games, so I was excited to see Fang come back. I was curious about that decision. We've seen cameos from him recently, but this is his first time back in a bigger role in a long time.
Iizuka: When we released Mania, or really Mania Plus, we added in Mighty and Ray. Two characters that most people didn't really know. But the fans loved them so much. We weren't expecting that kind of reaction. Because they had that reaction, when we were doing Superstars, the team really wanted to think about bringing back classic characters and putting them in the game. Also, how could we bring back a character like Mighty or Ray who's maybe not so well-known? What would be a character that could get the fans excited?
That was Fang. It's been many decades since Fang was out there, but we wanted to put him in. He's on Eggman's side, but we're bringing him back for Superstars.
GamesBeat: You talked about Frontiers coming out last year. This is a pretty ambitious schedule for new Sonic games. Is that part of a strategy, to make sure that there is this steady amount, maybe not exactly once a year, but something close?
Iizuka: The Sonic franchise has always been about bringing something new. All the games have to have some new element. We've been doing that for the past 30 years, innovating and adding and making these new experiences. Even from a franchise standpoint, the Sonic brand, the Sonic series, the team always wants to have new things in development, new experiences for people to engage with. One of the ideas was, we had Sonic Origins come out. That was the classic format, the original original, where everything started Sonic games. After that came out, after people played the original, now we wanted to deliver something new in that same 2D classic format.
GamesBeat: Talking about new mechanics, the Chaos Emerald powers stand out as something that's new to the franchise. How did that idea come about?
Iizuka: You're a classic fan, so you know that when you get all seven Chaos Emeralds, you get something special for collecting them. We understood that players are motivated to get all seven, but if they hit this wall and they can't collect them all, they lose their motivation. They get stuck. You have to get them all in order to get something.
We thought that because the challenge is to get them all, and that's really difficult, if people can't stay motivated to get them all, what if we gave out a power every time you collect one? You get something with each emerald, so maybe that will get people motivated to keep collecting, if we reward them for every time they collect one.
GamesBeat: Do you still unlock that super form when you get all the chaos emeralds?
Iizuka: You'll have to collect all seven to find out!
GamesBeat: What if you don't get all of them? Are you still going to be able to complete the game? Are any of these abilities mandatory to progress?
Iizuka: That was actually a big, important point we wanted to work on early in design. We did want to add the powers and have these new actions and abilities in the game, but we realized that if we started doing that, the classic gameplay that we wanted people to experience – running, jumping, attacking the enemies – that all changes if the game is now about using the powers all the time. We wanted to make sure that fans who love the classic series, who want to get in there and have that classic experience, can still have that experience.
In the game, we thought about this for a long time, but we finally said, the emerald powers will be additional things you get to do on top of the core, classic gameplay. If you don't do any of those additional things, you can still beat the game.
GamesBeat: I played two levels in the demo. One was very familiar with a tropical island vibe, and then the other one was a jungle that felt more new. Was it important to have some of those archetypes that Sonic fans recognize, like Green Hill Zone or Casino Night, but also mixing in something that's a bit more unexpected?
Iizuka: In the game, all the stages and all the places we're going to are new places. But I think you're picking up on what was important for the team. We wanted that Sonic-ness in all of the content that we created. Yes, there will be a jungle that's different from the other places. There's the digital world that you saw in the trailer. There are all these new places. But we're still creating and designing the levels with that Sonic feel. It does still feel very familiar, even though it's new. We wanted to make sure we put in that newness alongside the familiarity in the game.
GamesBeat: You've been involved with Sonic for such a long time. How does it feel being with the franchise at this moment? Sonic Frontiers was received well. Obviously the movies were a hit. The character is at something of a high point right now that he hasn't seen in a while.
Iizuka: It's been seven years since I came to America. Back then, Sonic was really in this tough situation. But everyone in the Burbank office was on the same page. We all wanted to bring Sonic back to where he was before, really make him something that people were talking about. Seven years later, I'm at the point where, this is a "wow" moment. This is what we were all working so hard for.
It's really thanks to the fans, all the support we've gotten from the fans. The games are being supported. The movie, everyone liked it. The TV shows are popular. It's the support of the fans that got us here, and we want to keep making better and better content to give back to not only the fans, but new audiences as well. We want to bring them in and keep the audience growing and supporting Sonic.
GamesBeat: I have younger nieces and nephews now, and they all gravitate toward Sonic just like I did when I was a kid. People my age who grew up with it, though, they're still interested. They still love Sonic. How do you balance appealing to both younger fans and older fans like me? How do you make content that makes all of those people happy?
Iizuka: You hit on an important point. Sonic Frontiers and Sonic Superstars are probably good examples of how we think about it and how we execute on that. Sonic Frontiers is really a game for gamers. People are into the game, clearing the game. Our fans love it as well because you can get in and feel like you're with the characters. It's really a game for that audience. But Superstars is going to be a game for really two different people. Our core, core fans who love that 2D classic Sonic gameplay, but also the kids and parents who want to come in and have casual fun. Just jump in and play Sonic. It's fast and it's lots of fun.
Those are the people that we're trying to entertain with Sonic Superstars. By making these different types of games, making sure we know who we're trying to entertain with that content, we can start making games that appeal to a wider audience of people. Or putting Sonic in games that are going to be appealing to different people, and really being able to provide fun gameplay for them with Sonic.
GamesBeat's creed when covering the game industry is "where passion meets business." What does this mean? We want to tell you how the news matters to you — not just as a decision-maker at a game studio, but also as a fan of games. Whether you read our articles, listen to our podcasts, or watch our videos, GamesBeat will help you learn about the industry and enjoy engaging with it. Discover our Briefings.