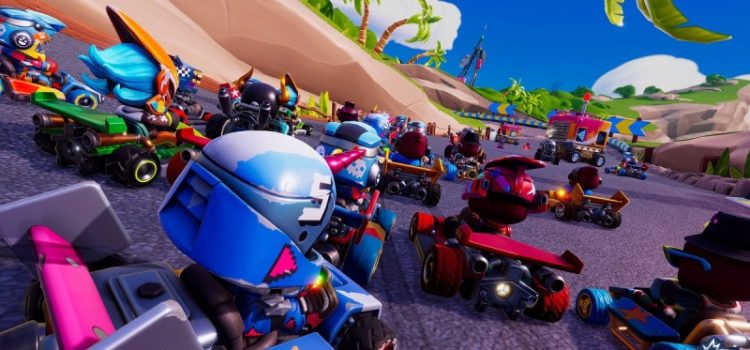 Missed the GamesBeat Summit excitement? Don't worry! Tune in now to catch all of the live and virtual sessions here. Stampede: Racing Royale is...
Missed the GamesBeat Summit excitement? Don't worry! Tune in now to catch all of the live and virtual sessions here.
---
Stampede: Racing Royale is a surprisingly delightful 60-player battle royale game where players race karts around tracks. It's coming to Early Access on Steam in 2023 from Level Infinite's Sumo Leamington and publisher Secret Mode.
It's basically a kart-racing game like Mario Kart where 60 players race each other in a free-to-play free-for-all. It debuts on Steam Early Access and then console versions will arrive later. I played a demo at the Summer Game Fest's Play Days and I enjoyed the chaos of 60 players trying to race for limited power-ups on a kart-racing track.
"Sometimes it's simplest ideas that work," said Paul Hollywood, development director at Sumo Leamington, in an interview with GamesBeat.
You will be able to play it with 59 bots or 59 humans in a three-race match. If you come in the top 40 in the first match, you make the cut for the next race. If you come in the top 20 for the second race, you make the cut for the final round. Only one champion can win. It's like Falls Guys in that way, but it most closely resembles Mario Kart. That makes me wonder why Nintendo hasn't done this. I think it was one of the best games that I saw at Play Days.
The start of the rice sees the herd of carts line up at the starting line. You can race for the speedy tracks or powerups and try to take short cuts. Inevitably, other karts will bump into you and throw your steering off. Once you collect powerups, you can leave behind mines for others to run over and blow up. You can throw bombs at those ahead of you, or you can shoot others with a pistol-like gun.
 
You need a good internet connection to play, but it's a game that just about anybody can play. Mastering it will be tough.
Sumo Leamington, a division of Tencent's Level Infinite, is making the game in the United Kingdom. And Sumo's Secret Mode is publishing.
The studio plans regular seasons, limited-time events, and other live experiences to try to keep playres coming back. If you want, you can spend real money on new cosmetic rewards to unlock to ensure your customized kart and racer stands out from the herd.
"Racing games have been at the core of Sumo Digital since the company was founded 20 years ago, from Outrun 2006: Coast 2 Coast to the Sonic & Sega All-Stars Racing series, and co-development on Forza Horizon 5," said Hollywood. "Sumo Leamington is a new studio filled with veterans of racing game development. Our debut title, Stampede: Racing Royale, proudly adds to Sumo Digital's heritage with an innovative new take on the karting genre."
Steam Playtests are taking place this Summer.
Sumo Leamington was started in March 2019. Sumo Digital was founded in 2003, and it is celebrating its 20th anniversary this year. Sumo Digital employs over 1,300 staff globally in the UK, Europe, India and Canada.
GamesBeat's creed when covering the game industry is "where passion meets business." What does this mean? We want to tell you how the news matters to you — not just as a decision-maker at a game studio, but also as a fan of games. Whether you read our articles, listen to our podcasts, or watch our videos, GamesBeat will help you learn about the industry and enjoy engaging with it. Discover our Briefings.