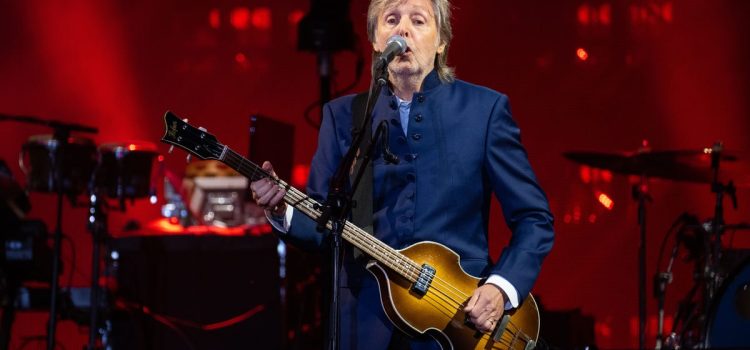 All you need is love, but artificial intelligence can sometimes help. Paul McCartney told BBC Radio 4 on Tuesday that he's using AI to...
All you need is love, but artificial intelligence can sometimes help. Paul McCartney told BBC Radio 4 on Tuesday that he's using AI to extract the late John Lennon's voice from an old demo tape to create what he calls the final Beatles record. While McCartney didn't name the song, the BBC reports it's "likely to be a 1978 Lennon composition called Now and Then."
"We just finished it up, and it'll be released this year," McCartney said.
McCartney received the demo tape in 1994 from Lennon's widow, Yoko Ono, on a  cassette marked "For Paul." It was one of several songs Lennon had recorded shortly before he was murdered in 1980. According to the BBC, Lennon sat at a piano in his New York apartment at the Dakota and recorded the "lo-fi and embryonic" tracks onto a boom box.
See also: I've Been Using Google's New AI Search. Here's What I've Learned
The surviving Beatles tried to record the song in the mid-1990s, but McCartney told Q Magazine that band member George Harrison objected due to the poor quality of Lennon's vocal. The song reportedly also had persistent background buzz from noise in Lennon's apartment.
"It didn't have a very good title, it needed a bit of reworking, but it had a beautiful verse and it had John singing it," McCartney told the magazine.
He said that an AI program was used to separate Lennon's vocals from the background to clean up the sound. The project was inspired by McCartney's work with Lord of the Rings director Peter Jackson on the 2021 Beatles documentary series, The Beatles: Get Back.
Jackson was able to "extricate John's voice from a ropey little bit of cassette," McCartney said on BBC Radio 4. "We had John's voice and a piano and he could separate them with AI. They tell the machine, 'That's the voice. This is a guitar. Lose the guitar.'"
There isn't a specific release date for the song.
AI to 'enhance human creativity'
McCartney admitted he's a bit wary of AI. Since the launch of OpenAI's ChatGPT late last year, there's been a flood of new generative AI tools and services from the likes of Microsoft, Google, Adobe and others. Though some of these tools can help people craft their artistic projects, some critics have raised concerns about AI.
"I'm not on the internet that much, (but) people will say to me, 'Oh, yeah, there's a track where John's singing one of my songs,' and it's just AI, you know?" McCartney said. "It's kind of scary but exciting, because it's the future. We'll just have to see where that leads."
At least one other musician is excited about the news.
"What music lover cannot be fascinated and intrigued by today's announcement?" AI expert and musician Dr. Martin Clancy said in a statement about the new Beatles track. "This is a textbook example of how we should be using this technology to enable and enhance human creativity rather than in replicating endless fake zombie knockoffs. I hope this will show the music community that AI need not be feared so long as we take steps now to tickle the technology's potential and reimagine its application."
For more on artificial intelligence, check out how AI is creating a new age of hiring and learn how to sign up for Google's new AI search engine.