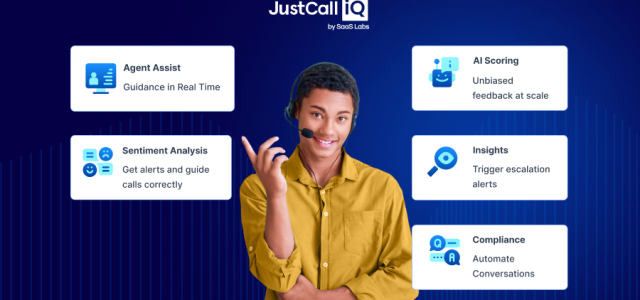 Join top executives in San Francisco on July 11-12, to hear how leaders are integrating and optimizing AI investments for success. Learn More JustCall...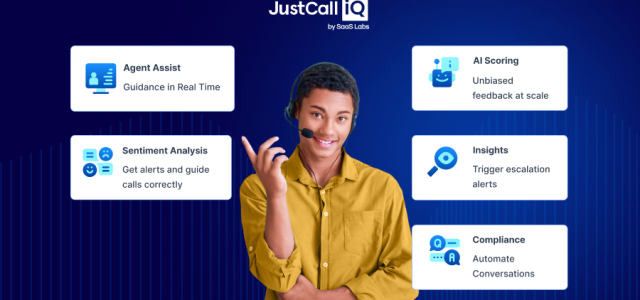 Join top executives in San Francisco on July 11-12, to hear how leaders are integrating and optimizing AI investments for success. Learn More
---
JustCall by SaaSLabs, a contact center software provider backed by Sequoia Capital, today unveiled JustCall iQ, an AI-driven conversational intelligence platform for small and medium-sized businesses (SMBs). The solution is designed to enhance the performance of call center sales teams, operations and customer support.
By harnessing the power of AI, JustCall iQ offers real-time coaching and sentiment analysis, aiming to allow call center agents to quickly achieve optimal performance. According to the company, its approach enables agents to achieve peak performance within days instead of the conventional months-long training methods. 
JustCall said that the platform, facilitated by an AI bot, automatically records and transcribes all calls, delivering teams a transcript of their meetings. This streamlined process allows managers to conduct efficient call reviews without having to listen for the entire duration.
>>Don't miss our special issue: Building the foundation for customer data quality.<<
Event
Transform 2023
Join us in San Francisco on July 11-12, where top executives will share how they have integrated and optimized AI investments for success and avoided common pitfalls.
After analysis, the system assists sales teams in identifying crucial moments that contribute to successful or unsuccessful calls. This helps sales employees improve their pitches and convert potential leads, while support teams can use the insights to improve customer satisfaction and drive business growth.
"Our new offering is a tool that lets you record, transcribe and analyze calls to get useful information that can be used for improved onboarding, continuous training and coaching," Gaurav Sharma, CEO and founder of JustCall, told VentureBeat. "Features such as AI-based performance scoring and sentiment analysis are great for agents and managers to improve win/call resolution rates, and our real-time agent assist bot offers prompts to agents to quickly address customer concerns as they happen."
The company claims that early adopters have experienced significant improvements, such as a 44% increase in closed-won rates, a 25% reduction in average handle time and a 32% boost in customer satisfaction.
Enhancing post-call insights through sentiment analysis
Sharma emphasized his company's commitment to eliminating guesswork in call analysis and providing valuable insights through post-call reports. These reports offer an overview of each call, including performance assessment, key takeaways, and actionable steps to reinforce successes and address challenges in future calls.
According to him, many businesses with call center managers remain entrenched in outdated call evaluation methods that depend on human monitoring. Not only does this prove costly, it results in many calls going unreviewed.
"Turnover rates for call center employees are high compared to other industries, and the work is stressful, dealing with angry customers, strict time limits and repetitive tasks," Sharma told VentureBeat. "With JustCall iQ, we're helping businesses improve customer experiences to capture the value of every call. We improve feedback and engagement and help guide agents with the right prompts as calls happen."
Sharma asserts that sentiment analysis offers a valuable opportunity for managers to accurately evaluate the effectiveness of their pitches and delivery in customer interactions. By employing emotion detection and language processing, customer sentiment analysis delves deep into customers' emotions and reactions.
He said that admins and managers can use sentiment analysis to identify trends that inform their guidance and coaching of agents.
"The success of every customer interaction hinges on the real-time reactions and sentiments expressed by customers. Sentiment analysis is crucial in monitoring each call's emotional quotient (EQ), focusing on vital parameters including fluency, empathy, satisfaction, interest levels, excitement levels, politeness and patience," explained Sharma. "Organizations learn from precise and unbiased insights delivered after every call, eliminating the guesswork and need for manual data mining, which saves managers valuable time and ensures a more objective analysis of customer interactions."
The company said that online insurance provider Apollo Insurance has adopted the JustCall iQ platform to gain insights into its customer interactions. The platform enables Apollo to track metrics such as text volume, call duration, agent performance and the average communication count that results in conversions.
Likewise, Newity, a small business lender, has used JustCall iQ to improve operational efficiencies in its financial services business. Its sales and support teams use the platform's real-time features, including agent assistance and real-time coaching, increasing their efficiency over a traditional QA team.
"Using the analytics has given them valuable insights into what's happening with these calls and texts," said Sharma. "Now they can route leads to the agents most likely to convert them to sales — which has helped them increase conversions significantly."
VentureBeat's mission is to be a digital town square for technical decision-makers to gain knowledge about transformative enterprise technology and transact. Discover our Briefings.