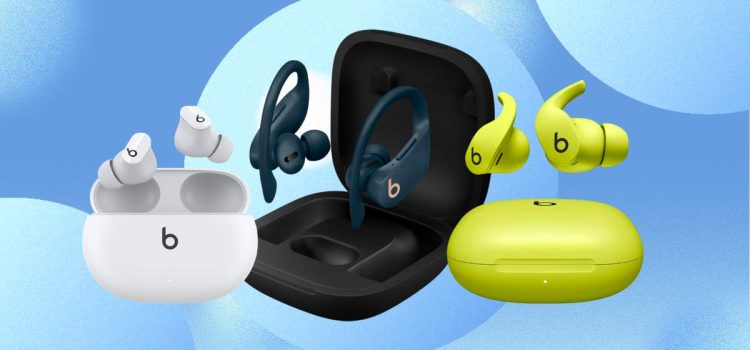 There was a time when finding discounts on Beats headphones was a serious challenge. Things have changed. It may take some digging, but these...
There was a time when finding discounts on Beats headphones was a serious challenge. Things have changed. It may take some digging, but these days, you can find deals on nearly all of Beats' current headphones and earbuds, with some pairs discounted by more than $100. To save you that legwork, we've rounded up the best prices available right now below so you can get your hands on a new pair for less. 
There are a variety of Beats models to choose from, including everything from over-ear headphones to workout earbuds, so there's a set for pretty much everyone. Though some may be more expensive than others, the quality that Beats by Dr. Dre offers is impressive given how reasonably priced the headphones are — especially when you can find a good Beats deal. 
You'll be able to find deals on Beats headphones and earbuds across multiple retailers, which can be rare for other Apple-made products, and Apple even matches some Beats headphone deals from third-party retailers at its own online store. And with older models, the deals are even better. Check out the best prices currently available.
Beats headphone pricing 2023
| Model | Retail price | Best price right now | Best all-time price |
| --- | --- | --- | --- |
| Beats Studio Buds | $150 | $90 | $90 |
| Beats Fit Pro | $200 | $160 | $150 |
| Beats Powerbeats Pro | $250 | $180 | $150 |
| Beats Flex | $70 | $40 | $39 |
| Beats Powerbeats | $150 | Unavailable | $80 |
| Beats Solo3 | $200 | $129 | $79 |
| Beats Solo Pro | $300 | Unavailable | $100 |
| Beats Studio3 | $350 | $169 | $150 |
| Beats EP | $129 | $95 | $60 |
Prices fluctuate frequently and sometimes certain colors are less expensive than others, so click through on any model to see specific pricing for specific colors. Note that while the Beats Solo Pro, Powerbeats and Beats EP have been discontinued from production, some remain available for purchase from various retailers. 
Read more: Best True-Wireless Earbuds for 2023
You don't have to spend a fortune for a decent set of noise-canceling earbuds in 2023. With solid sound quality, active noise cancelation and a transparency mode, the Beats Studio Buds are a great option to consider. And right now, Woot has a variety of colors available for $90, which matches the all-time lowest price we've seen on these earbuds. 
These lightweight, sporty headphones won an Editors' Choice Award in 2021 and offer good sound and better battery life than the first-gen AirPods Pro. Powered by Apple's H1 chip, the Beats Fit Pro earbuds offer spatial audio and other features like active noise canceling. You can snag a pair for $40 off right now at Amazon, though only the white color variant is discounted at the moment. 
Battery Life Rated up to 9 hoursNoise Canceling NoMultipoint NoHeadphone Type Wireless earbudsWater-Resistant Yes (IPX4 — splash-proof)
Beats' Powerbeats Pro have been out for a few years and list for $250. You can often find them on sale for around $200, but right now you can snag the navy color variant for just $180 at Amazon, with the other colors available for $200. 
Read our Beats Powerbeats Pro review.
These wireless earbuds are not true wireless, but they're not bad — and the price of the Beats Flex is even better. They provide up to 12 hours of listening time per charge and have auto-pause magnetic buds to boot. You can nab a set from $37 right now, but only in gray on Amazon — other colors are $40.
First released in 2016, the Beats Solo3 headphones predate the Solo Pro and have the W1 chip instead of the H1 chip. While they're wireless, unlike the Solo Pro, they're missing noise cancellation. That said, it's one of the most popular Beats models ever made. You can get Beats Solo 3 for $129 right now, though we have seen them fall as low as $79 during holiday sales.
Beats' Studio3 wireless over-ear noise-canceling headphones were released back in 2018. They're still good headphones, and you can nab select colors for as low as $169 — over half-off — right now at Amazon, with other colors available for around $180. The lowest they have gone is $150.
Read our Beats Studio3 Wireless review.
Beats' entry-level EP wired headphones provided a surprisingly good listening experience — and value. They aren't flashy and don't fold up or fold flat for travel, but they offer a premium feeling metal frame and offer decent, clean sound with enough bass here to satisfy a low-end audiophile, but not so much to turn off someone who's looking for a more balanced, neutral sound quality in their headphones. Since being discontinued, supplies have all but dried up but you can still find a set at a discount if you know where to look.
Watch this: Beats Fit Pro are the sports AirPods you've always wanted