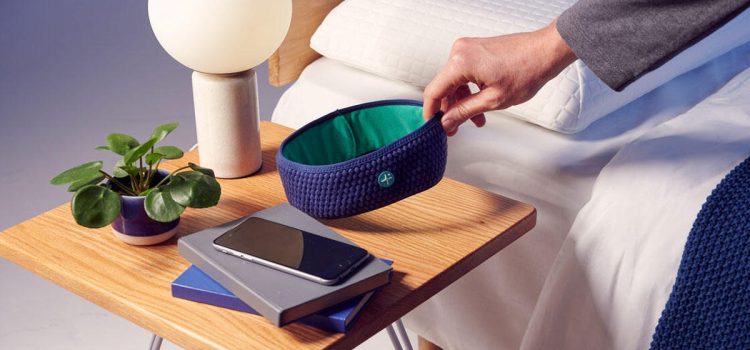 $50 at Walmart Dormi Headband Headphones Best sleep headphones for side sleepers $23 at Amazon Lightimetunnel Sleep Headphones Best sleep headphones that also block...
$50 at Walmart
Dormi Headband Headphones
Best sleep headphones for side sleepers
$23 at Amazon
Lightimetunnel Sleep Headphones
Best sleep headphones that also block light
If you're trying to get better sleep, listening to music or relaxing sounds before bed can help. We talked to Michael Breus, sleep medicine expert and the founder of The Sleep Doctor website. "Relaxing music triggers changes to the body that in many ways mimic a sleep state," he said. "A slower heart rate, slower breathing, lower blood pressure are all physiological changes that make possible the process of falling asleep and staying asleep." 
If you need help getting the recommended eight hours of shut-eye each night, it might be time to invest in some sleep headphones that promote relaxation and fight the effects of background noise. To help you find the best headphones for sleeping, we've highlighted several different types, including a few headband headphone options, Bluetooth headphones, and earbuds that nestle into your ear canal to block out ambient noise. Keep reading for sounder sleep.
What are the best headphones for sleeping?
Our top choice for sleep headphones are the Pixel Buds Pro, because of their versatility. They're great for day and night, block outside noises with active noise canceling and offer great value for the price.
Best headphones for sleeping for 2023
Battery Life Rated up to 11 hoursNoise Canceling Yes (ANC)Multipoint YesHeadphone Type Wireless earbudsWater-Resistant Yes (IPX4 — splash-proof)
The Pixel Buds Pro wireless earbuds fit the bill for people who want a pair of quality headphones that are equally as functional during sleep as they are during the day. 
The Pixel Buds Pro have active noise cancellation that helps block distracting noises like snoring while you sleep. Paired with Google's Silent Seal technology, the Pixel Buds' ear tips work to enhance noise cancellation as they form a gentle seal that keeps quality sound in and environmental noises out. 
Sleeping with earbuds can be difficult if they fall out too often, but I found that the Pixel Buds Pro comfortably stayed put. 
Aside from noise canceling, the Pixel Buds Pro have Google Assistant enabled, so with just the click of a button (or voice activation) you can get help on anything from answering a text to directions. They boast up to 31 hours of listening time, crisp sound, wireless charging and more.
Read our Pixel Buds Pro review.
If you don't like the idea of wearing a headband to bed, the Bedphones Sleep Headphones are another made-for-sleep option that comes sans fabric. This sleeping headphone option features two ultrathin headphone speakers connected by a rubber-coated memory wire that's fully adjustable so you can find your perfect earphone fit.
They come in two versions — wired and wireless headphone options — and each one comes equipped with an in-line microphone and three-button remote that allows you to answer phone calls or play, pause or skip whatever you're listening to. And a single charge lasts an impressive 13 hours. These are great earbuds for sleeping more comfortably. 
Sleep next to a habitual snorer or live in a noisy environment? The QuietOn 3.1 earbuds use active noise cancellation and passive noise reduction to deliver some of the best noise-canceling performance I've tested. 
What look like wireless headphones in a charging case are small earbuds specifically designed to block noise while you sleep. They don't play music or pair with Bluetooth; they function more like foam earplugs but are much more effective. 
The earbuds are smaller than any wireless headphones you own and fit snug inside your ear. This prevents them from falling out during the night and makes them comfortable enough for side sleepers to wear to bed. It takes 20 seconds from the time you remove them from the case to activate the active noise canceling, but once it switches on, the difference in sound is significant. 
I ran an extra-loud snoring simulation on my phone during the night, and the only sound I could hear while wearing the QuietOn 3.1 buds was my own breathing. The key is to ensure the earbud is snug in your ear, and you may need to change the ear tip for a more sealed fit. 
The battery life also lasts up to 28 hours on a single charge. I know they're expensive, but if you're consistently losing sleep over disruptive noises, these may very well be worth it. 
Most sleep headphones aren't designed for side sleeping, but the Dormi Wireless Sleep Headphones function as a moisture-wicking, lightweight headband side sleepers can wear to bed so they can rest comfortably without an earbud pressing into their head. 
There are two thin speakers within the headband that line up with your ears and deliver surprisingly clear sound quality. The headband pairs with any Bluetooth device, boasts a 10-hour battery life, and even has a built-in mic so you can talk on the phone. It's also machine washable, just make sure you take out all the electronics inside before you wash it.  
They're available in two different sizes and multiple colorways. The only downside is for hot sleepers. The material feels like breathable athletic wear and should be fine for most people, but l think folks who are prone to sleeping warm might heat up wearing a band around their head all night. 
You're receiving price alerts for Dormi Headband Headphones
If you really want to up your sleep quality, this sleep headphones slash sleep mask from Lightimetunnel (formerly Watotgafer) is a double whammy. Equipped with flat headphones and an ergonomic eye design that doesn't put too much pressure on your face, the setup effectively blocks out noise and light all at once. The flat headphones are tucked into a breathable, slow-rebound memory foam fabric that's also designed to release tension and stress in your face so you can drift off to a more restful sleep. 
The Bluetooth controls are also placed in the middle of the eye mask, so you can easily control your music or white noise app even when sleeping on your side. And since a single charge lasts at least eight hours, you can run them all night without interruption.
You're receiving price alerts for Lightimetunnel Sleep Headphones
The ultra-lightweight design and squishy silicone ear tips make these minimalistic earbuds for sleeping an excellent option for travel. The ear tips have an ergonomic double layer design that fits snugly in most ear canals to effectively drown out the noise around you, while the mini speaker in each earbud provides quality, balanced sound without too much bass.
Because they don't have a flat design, they're not ideal for side sleeping, but if you're a back sleeper or you need something to drown out ambient noise on a plane or train, these headphones do the trick. And because they're so cheap, it won't be a total disaster if they get lost somewhere along the way.
You're receiving price alerts for Maxrock Sleep Earbuds
The Hoomband Headband earned the title of overall best headphones for sleeping because they're not just headphones that you can sleep with — they're headphones that were made for sleep. The headphone headband has two ultrathin, flat speakers that are placed under foam, so you can hear them but can't feel them. The headband itself is made from a 3D mesh that's soft, thin and helps regulate temperature so you don't get too hot while you sleep.
The Bluetooth headphone setup comes with a free app that includes 100 hours of audio content — including ambient sound options, documentaries, white noise, guided meditations, soothing sounds and more — but it also works like regular headphones that allow you to connect with your favorite apps, like YouTube, Spotify and Headspace via Bluetooth.
How we test the best headphones for sleep

CNET editors pick the products and services we write about based on editorial merit. When you buy through our links, we may get a commission. 
Noise cancellation: A snoring simulation was played at high volume near our bedside to test the headphones' ability to block out environmental noises. 
Comfort: Sleeping with too much pressure against the head can cause headaches. Headphones were tested in each sleeping position — side, back and stomach — to determine ear tip comfort, stableness of earbuds in the ear and how accommodating they felt from the perspective of different types of sleepers. 
Sound quality: We tested headphones for clarity of sound. Crystal clear sound quality isn't required for sleep headphones, but it should be up to par in order to minimize sudden changes in sound that can cause sleep disruption.   
Price: We included a variety of headphones for sleep that fall in different price categories, from wallet-friendly to cream of the crop, so most sleepers can find a good pair regardless of their budget. 
Special features: We considered added features or perks that made headphones even more functional, such as a free audio library, Google assistant and machine-washability. 
Factors to consider when choosing sleep headphones

Sure, any decent set of headphones can play music or meditations, but it's the design that sets sleep headphones apart. Regular headphones can be bulky and uncomfortable to lie on, but sleep headphones are made with a minimal, barely there feel that lets you drift off to sleep while wearing them comfortably throughout the night. For the best sleep headphones, keep an eye out for these features:
Noise cancellation.
A battery life of eight hours or longer.
Ergonomic, comfortable ear tips. 
Flat, thin designs such as headband headphones.
Read more: How We Test Products and Services
How sound affects sleep 

Sound has a significant influence on sleep quality, both negative and positive. "There's data that suggests soothing, relaxing music can bring about these effects on you physically," Breus said, going on to list:
Slower breathing.
A lower heart rate.
Lower blood pressure.
A quieted nervous system.
Reduced muscle tension.
Lowered stress and anxiety.
The release of sleep-friendly hormones, including serotonin and oxytocin, and a reduction in hormones like cortisol.
Breus went on to explain that "just like soothing sounds can mimic a sleep state, certain sounds signal an alarm for your brain (sirens, loud neighbors, weather etc.) so when you hear them, it can cause some level of anxiety. Anxiety is really the opposite of sleep." 
As a result, sleep headphones act as a good solution for people to listen to relaxing sounds while drowning out the noisy, distracting sounds that evoke anxiety and disrupt sleep. 
Headphones for sleeping FAQs
Is it OK to wear headphones while sleeping?
Yes, there is no harm in wearing headphones while sleeping, just as long as your earbuds are comfortable enough to keep from disrupting you during the night. Listening to music or a relaxing podcast before you go to bed can lower your heart rate, and keep your mind from thinking about your daily stressors. 
What type of headphones are most comfortable to sleep in?
Some of the best headphones for sleep include:
Hoomband Headband
Bedphones Sleep Headphones
Fulext Sleep Headphones
SleepPhones Wireless Sleep Headphones
Can sleeping with headphones cause headaches?
If you're wearing improper headgear while you sleep, it's possible it could lead to an external compression headache. It's caused by having too much pressure around your head, and can be avoided if you use earbuds meant for sleeping that fit snug in your ear.